This post is part of the 📖 100 Ways to Improve Your Writing series.
Today, I am reading the Introduction chapter of the book 100 Ways to Improve Your Writing written by Gary Provost.
TL;DR! 💬
This is the one guide that anyone who writes—whether student, businessperson, or professional writer—should keep on their desk.
Filled with professional tips and a wealth of instructive examples, 100 Ways to Improve Your Writing can help solve any writing problem.
In this compact, easy-to-use volume, you'll find the eternal building blocks of good writing—from grammar and punctuation to topic sentences—as well as advice on challenges such as writer's block and creating a strong title.
It is a must-have resource—perfect for reading cover to cover, or just for keeping on hand for instant reference—now updated and refreshed for the first time.
Introduction
This book will teach you how to write better love letters.
It will also teach you how to write better books, short stories, magazine articles, letters to the editor, business proposals, sermons, poems, novels, parole requests, church newsletters, songs, memos, essays, term papers, theses, graffiti, blog posts, advertisements, and shopping lists.
NINE WAYS TO IMPROVE YOUR WRITING WHEN YOU'RE NOT WRITING
Get Some Reference Books
Expand Your Vocabulary
Improve Your Spelling
Read
Take a Class
Eavesdrop
Research
Write in Your Head
Choose a Time and Place
1. Get Some Reference Books
It would be a shame to bring an entire writing project to a halt just because you didn't know how to spell gyroscope or schnapps. So get a dictionary and keep it in the room where you write, no more than an arm's length away.
2. Expand Your Vocabulary
The best-known one is Thirty Days to a More Powerful Vocabulary by Wilfred Funk and Norman Lewis. Read that book or one like it.
There are websites such as vocabulary.com and lingualift .com if you prefer to work with your vocabulary online. For those on the go, apps such as Vocabulary Builder by Magoosh and Vocab24 by WiFi Study are free and highly rated for improving your vocabulary.
That's it for today. Tomorrow, we will read continue to read the same chapter, NINE WAYS TO IMPROVE YOUR WRITING WHEN YOU'RE NOT WRITING.
---
Key Takeaways
It is the writer's job, not the reader's, to see that writing accomplishes whatever goal the writer has set for it.

"Make yourself likeable." Readers who like you are more inclined to trust you, laugh at your jokes, cry over your anguish, sign the petition, buy the product, put the check in the mail, or do whatever else you are trying to get them to do through your writing.
---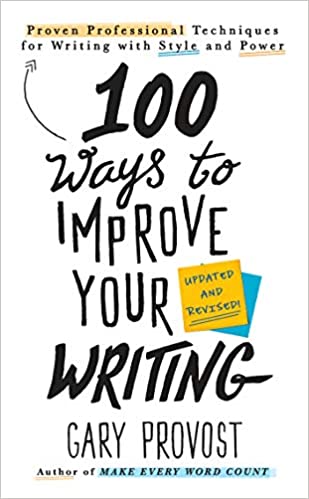 Author(s): Gary Provost
Short Blurb: The classic text on writing well, now refreshed and updated. This is the one guide that anyone who …
Read more
Buy from Amazon
---
Amazon Associates Disclaimer! 💬
As an Amazon Associate, I earn from qualifying purchases. I make a tiny commission if you buy using one of the links above at no additional cost to you. I use the money to buy another book 📖 to review or grab a beer 🍺 Super duper thanks 🙌