This post is part of the 📖 300 Email Marketing Tips series.
Today, I am reading the final section TIPS TO CREATE EMAIL SYSTEMS from the book 300 Email Marketing Tips written by Author, Meera Kothand a 3X Amazon best-selling author of the books The One Hour Content Plan, But I'm not an Expert and Your First 100..
Info! 💬
By reading this book
300 Email Marketing Tips
, you will understand what branding has to do with email marketing and the #1 thing most solopreneurs ignore when it comes to their email list. 7 things your welcome email must do (but probably doesn't!). Why your lead magnet has to address two critical points. 3 ways to plan your email editorial calendar. You will get answers to these questions and more.
Yesterday, I read a sections from TIPS TO CREATE EMAIL SYSTEMS section.
CONCLUSION + NEXT STEPS
You now have more than a bare-bones framework to put in place an email marketing strategy for your business.
You can't have every single automation or system I've outlined in the book from the start.
You can't have multiple sequences set up all at once for each of your lead magnets if you've never created a sequence before.
Take incremental steps every single day.
As your list grows over time and as you build your brand and stake claim to your expertise, you will attract more people who go on to buy from you.
Turning subscribers into brand advocates takes time.
You have to stand out in that busy inbox.
You have to fight to get noticed.
You have to show them you care.
You have to earn their trust.
That's it. We finished the book. Tomorrow I am going to start a new book, so please tune in to see what I am going to read.
I read and write 183 days non-stop. I finished 6 books and gained unbelievable knowledge and improved my writing and summarising the things concisely.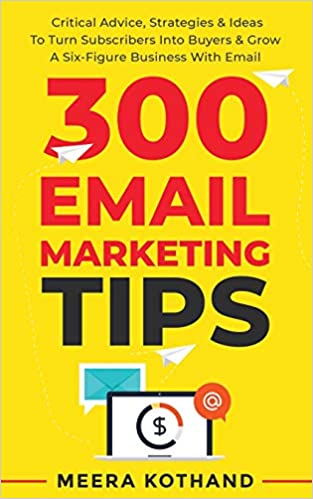 Author(s): Meera Kothand
Short Blurb: Does any of this sound familiar to you? 1. You sit down every week staring at that blinking cursor …
Read more
Buy from Amazon
---
Part 18 of 18 in the 📖 300 Email Marketing Tips book series.
Series Start | 300 Email Marketing Tips - Day 17
---
Amazon Associates Disclaimer! 💬
As an Amazon Associate, I earn from qualifying purchases. I make a tiny commission if you buy using one of the links above at no additional cost to you. I use the money to buy another book 📖 to review or grab a beer 🍺 Super duper thanks 🙌