This post is part of the 📖 Linked Inbound series.
Today, I am reading the first chapter Who Should Read this Book? chapter of the brand new book Linked Inbound written by Sam Rathling.
TL;DR! 💬
This book was written for every individual that knows the huge potential of LinkedIn® but has no idea how to unlock it.
When writing this book, author Sam Rathling Social Selling framework has generated close to £10million in closed business for her clients in a year. Typically, sales directors, CEOs, entrepreneurs, business owners, and Experts pick up this book because they are worried about a weak or empty sales pipeline.
Learn, master and implement 8 strategies discussed in the book Linked Inbound** and you will catapult your LinkedIn® results, smash your sales quota, build your brand and achieve everything you want in your business.
Who Should Read this Book?
Sales Directors, CEO's, Entrepreneurs, Business Owners and Experts pick up this book because they are worried about their weak sales pipeline. Despite being good at what they do, they don't have enough leads and need more clients.
Most people know they need to be on LinkedIn® but are frustrated because they don't remember to make it work, and they can't seem to get the leads into their business that they know they should be getting.
This is easy to understand, simple and practical guide that you can implement in your business or sales team.
"Linked Inbound" was written as an easy to understand, practical and straightforward guide that will be effective for your business and take very little time to implement.
You will benefit hugely from this book if:
You have no profile at all on LinkedIn® and are starting from scratch.

You have a profile on LinkedIn® but can't remember the last time you looked at it!

You are using LinkedIn® already but currently do not get any business from it.

You have limited time to spend on LinkedIn® and need to know the daily habits.

You are ready to take your online reputation and your business to the next level.

You want to position yourself as the 'go-to expert in your field.

You know your target market is on LinkedIn®, but you have no clue how to gain access to them.

You have employees to whom you could replicate this advice.

You have less than 15 minutes a day to spend on networking sites like LinkedIn®

You have heard of 'Social Selling' but don't know what it is or how to turn LinkedIn® into real leads and sales opportunities.
If you put aside 1 hour a week for the next 90 days, you would be able to revamp your LinkedIn® presence completely.
That's it for today. Tomorrow, we will read the next chapter, 8 Social Selling Strategies.
---
Key Takeaways
LinkedIn® is an amazing business tool. Whether you are selling B2B or B2C, you really can generate massive opportunities, new leads and clients.

LinkedIn® marketing and social selling is a marathon, not a sprint. It takes consistency and patience. This is not a magic bullet or a quick fix.
Summary
This book will help you win more clients, and the more you implement from this book, the better your chances of securing new leads from LinkedIn. Over time you will generate inbound leads, grow your brand and prospect effectively to build your sales pipeline.
---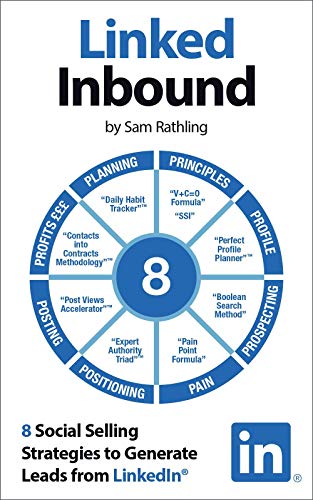 Author(s): Sam Rathling
Short Blurb: This book was written for every individual that knows the huge potential of LinkedIn®, but with no …
Read more
Buy from Amazon
---
Part 1 of 25 in the 📖 Linked Inbound book series.
---
Amazon Associates Disclaimer! 💬
As an Amazon Associate, I earn from qualifying purchases. I make a tiny commission if you buy using one of the links above at no additional cost to you. I use the money to buy another book 📖 to review or grab a beer 🍺 Super duper thanks 🙌