This post is part of the 📖 Linked Inbound series.
Today, I am reading the chapter 4: Prospecting to Build your Pipeline: Part 1 chapter of the book Linked Inbound written by Sam Rathling.
TL;DR! 💬
This book was written for every individual that knows the huge potential of LinkedIn® but has no idea how to unlock it.
When writing this book, author Sam Rathling Social Selling framework has generated close to £10million in closed business for her clients in a year. Typically, sales directors, CEOs, entrepreneurs, business owners, and Experts pick up this book because they are worried about a weak or empty sales pipeline.
Learn, master and implement 8 strategies discussed in the book Linked Inbound and you will catapult your LinkedIn® results, smash your sales quota, build your brand and achieve everything you want in your business.
Yesterday, I finished reading Personal Recommendations chapter from the Linked Inbound book.
---
CHAPTER 4
Prospecting to Build your Pipeline: Part 1
Prospecting is one of the most important skills to develop if you are looking to build your sales pipeline and increase the number of new clients you are bringing into your business.
Your approach on LinkedIn® with the people you already know from your existing network will be very different from prospecting those you don't know.
Right now, no matter where you are in your career or business, you have both personal and business contacts that you have built up over time. Your network is unique to you, and now it's time to leverage it!
Your existing network of contacts will often lead you to a dream client or someone you want to do business with.
Here are a few of the suggested groups of people that I recommend adding as a priority:
Connect with Ex-Colleagues
Connect with Clients
Connect with your Staff
Connect with Friends & Family
Connect with Old School, College & University Friends
Connect with Suppliers
Connect with the Business Cards on your Desk
Connect with Neighbours
5 Actionable Insights
Personalise every connection request to each person, with how you know each other.
Add 10 connections per day to build up your 1st-degree connections.
Start conversations by asking questions, find out what they have been up to.
See how you can help each other.
Have fun! This is a simple and fun exercise that should not be neglected.
That's it for today. We finished reading Chapter 4: Prospecting to Build your Pipeline: Part 1.
Tomorrow, we will read the next chapter, Chapter 5: Prospecting to Build your Pipeline: Part 2, adding people you don't know - cold market).
---
Key takeaways
LinkedIn® works on the simple premise that we are all connected through six degrees of separation. This means that you can reach any contact, no matter how famous, through a maximum of six people in your network.

A common misconception with LinkedIn® is that when you add a new connection, you are just adding that one person. You are adding them, plus their 1st and 2nd-degree connections, into your network.
---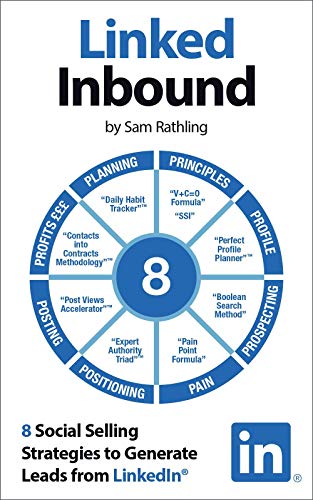 Author(s): Sam Rathling
Short Blurb: This book was written for every individual that knows the huge potential of LinkedIn®, but with no …
Read more
Buy from Amazon
---
Part 11 of 25 in the 📖 Linked Inbound book series.
Series Start | Linked Inbound- Day 10 | Linked Inbound- Day 12
---
Amazon Associates Disclaimer! 💬
As an Amazon Associate, I earn from qualifying purchases. I make a tiny commission if you buy using one of the links above at no additional cost to you. I use the money to buy another book 📖 to review or grab a beer 🍺 Super duper thanks 🙌