This post is part of the 📖 Linked Inbound series.
Today, I am reading the chapter 6: Prospecting to Gain Competitive Edge chapter of the book Linked Inbound written by Sam Rathling.
TL;DR! 💬
This book was written for every individual that knows the huge potential of LinkedIn® but has no idea how to unlock it.
When writing this book, author Sam Rathling Social Selling framework has generated close to £10million in closed business for her clients in a year. Typically, sales directors, CEOs, entrepreneurs, business owners, and Experts pick up this book because they are worried about a weak or empty sales pipeline.
Learn, master and implement 8 strategies discussed in the book Linked Inbound and you will catapult your LinkedIn® results, smash your sales quota, build your brand and achieve everything you want in your business.
Yesterday, I finished reading Prospecting to Build your Pipeline: Part 2 chapter from the Linked Inbound book.
---
CHAPTER 6
Prospecting to Gain Competitive Edge
There are some key things you can do to set yourself apart from your competition.
LinkedIn® has some amazing features that so few people know about; you can stand out from the crowd and cut through all the noise in the inbox of your potential clients and your existing connections.
Prospect Daily
Prospecting is one of the most important elements to success on LinkedIn®. Prospecting every day, building up your connections in your target market is critical to you generating leads.
Prospecting daily is one way to gain a competitive advantage.
Being proactive, adding new people daily who match your exact target market, will start conversations with the right people, meaning that people you actually want to do business with will see your amazing content, plus you will get into the habit of building your sales pipeline for the long term.
Action: Do the following every day on LinkedIn®
Add a minimum of 10 connections a day in your target market. This will take you less than 10 minutes. Run your Boolean search, filter using the filters LinkedIn® provides, go through the list and choose 10 profiles of people to invite into your network.
If you are a small business owner or micro-business, you must prospect daily, even if you are super busy.
If you don't, you may end up in a rollercoaster cycle of winning business, getting busy, delivering the work and then coming to the end of a project and realising you don't know where the next one is coming from.
Prospecting in Technicolour
LinkedIn® has recently introduced some amazing features to messaging. You can now send any of the following to a connection from your LinkedIn® inbox once someone becomes a 1st-degree connection:
An attachment
An image is taken directly from your Camera
A video message
An image from your picture gallery/album
A GIF
Your Location
Your availability (links to your Calendar)
That's it for today. Tomorrow, we will continue to read the same chapter, Chapter 6: Prospecting to Gain Competitive Edge but read a new section called Using LinkedIn® for Research.
---
Key takeaways
Want to stand out from the crowd and cut through the noise? Send someone a video message or a voice message.

When prospecting, using rich media (like voice message, video message) can give you an edge and set you apart from all of the other messages your prospects receive in their LinkedIn® inbox.

More than 85% of LinkedIn® users will watch or read videos without sound. So include captions if you are sending a video message.
---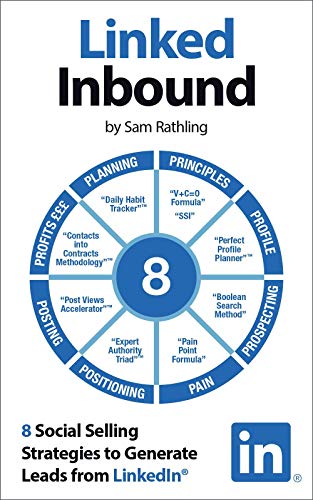 Author(s): Sam Rathling
Short Blurb: This book was written for every individual that knows the huge potential of LinkedIn®, but with no …
Read more
Buy from Amazon
---
Part 15 of 25 in the 📖 Linked Inbound book series.
Series Start | Linked Inbound- Day 14 | Linked Inbound- Day 16
---
Amazon Associates Disclaimer! 💬
As an Amazon Associate, I earn from qualifying purchases. I make a tiny commission if you buy using one of the links above at no additional cost to you. I use the money to buy another book 📖 to review or grab a beer 🍺 Super duper thanks 🙌