This post is part of the 📖 Linked Inbound series.
Today, I am reading the chapter 7: POSTING WITH PURPOSE chapter of the book Linked Inbound written by Sam Rathling.
TL;DR! 💬
This book was written for every individual that knows the huge potential of LinkedIn® but has no idea how to unlock it.
When writing this book, author Sam Rathling Social Selling framework has generated close to £10million in closed business for her clients in a year. Typically, sales directors, CEOs, entrepreneurs, business owners, and Experts pick up this book because they are worried about a weak or empty sales pipeline.
Learn, master and implement 8 strategies discussed in the book Linked Inbound and you will catapult your LinkedIn® results, smash your sales quota, build your brand and achieve everything you want in your business.
Yesterday, I read Using LinkedIn® for Research section from the chapter Prospecting to Gain Competitive Edge of the book Linked Inbound book.
---
CHAPTER 7
POSTING WITH PURPOSE
This chapter is all about content creation, posting with purpose and helping you leverage the LinkedIn® newsfeed to explode your visibility and credibility in ways you have never done before.
Now it's time to look at 'inbound lead generation. Over the coming months and years, by applying the social selling strategies outlined in this book, you will be building up an incredible network of connections in your exact target market.
Content is King
If you aren't posting content on LinkedIn®, you may as well be invisible. Content helps you to position yourself as an expert in what you do.
Connection is Queen
Content may be King, but it is not purely about the quantity of content. It also needs to connect with your audience. I say the connection is Queen.
Always keep your target market top of mind when posting on LinkedIn®.
Engagement is Critical
Ever wondered why some of your posts receive hundreds or even thousands of views and others simply fade into non-existence like a tumbleweed?
LinkedIn® loves comments it weights these the highest. So if your post receives a significant amount of comments, then more and more people will be exposed to that piece of content.
That's it for today. Tomorrow, we will read a new section, 12 Different Content Themes.
---
Key takeaways
Everyone has heard the expression that 'Content is King'. It is one of the best social selling strategies to drive inbound leads to your inbox on LinkedIn®.

Don't use any scheduling tools to push out content to your LinkedIn® newsfeed. You will be penalised for this in fewer views. Always create the content natively from within LinkedIn®.
---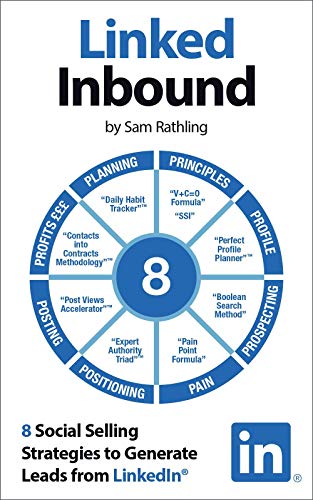 Author(s): Sam Rathling
Short Blurb: This book was written for every individual that knows the huge potential of LinkedIn®, but with no …
Read more
Buy from Amazon
---
Part 17 of 25 in the 📖 Linked Inbound book series.
Series Start | Linked Inbound- Day 16 | Linked Inbound- Day 18
---
Amazon Associates Disclaimer! 💬
As an Amazon Associate, I earn from qualifying purchases. I make a tiny commission if you buy using one of the links above at no additional cost to you. I use the money to buy another book 📖 to review or grab a beer 🍺 Super duper thanks 🙌