This post is part of the 📖 Linked Inbound series.
Today, I am reading Chapter 9: Pages: Build your Company Brand from the book Linked Inbound by Sam Rathling.
TL;DR! 💬
This book was written for every individual that knows the huge potential of LinkedIn® but has no idea how to unlock it.
When writing this book, author Sam Rathling Social Selling framework has generated close to £10million in closed business for her clients in a year. Typically, sales directors, CEOs, entrepreneurs, business owners, and Experts pick up this book because they are worried about a weak or empty sales pipeline.
Learn, master and implement 8 strategies discussed in the book Linked Inbound and you will catapult your LinkedIn® results, smash your sales quota, build your brand and achieve everything you want in your business.
Yesterday, I finished reading Chapter 8: Positioning Your Expertise from the book Linked Inbound book.
---
CHAPTER 9
Pages: Build your Company Brand
Most of what we have focussed on so far in this book has been about building your personal brand, and now it's time to turn our attention to your Company Brand.
Having a Company Page on LinkedIn® is essential. It allows you and your company to take part in conversations important to your brand, engage with and grow your audience, and leverage your current employees to spread your brand message.
Five key reasons for having a LinkedIn Company page:
Recruiting & Attracting Great Talent to your Organisation
Spreading your Company message through your Employees
Raising brand awareness for your Company Brand, Products & Services
Promoting CSR (Corporate Social Responsibility) efforts
It's an additional way for you and your Company to be found
Be aware that your company page is linked to your personal profile.
Once you have created your company page, your company's logo will appear next to your work experience, and your employees will be able to link themselves to your business.
Whether you are a micro-business or a larger company, not having a company page will not affect your credibility.
That's it for today. Tomorrow, we will read the next chapter, Chapter 10: Building Community In Groups.
---
Key Takeaways
If you are currently a micro or start-up business, the author's advice would be to focus on building your personal brand through your LinkedIn ® personal profile with a limited focus on your Company Page.
Summary
Set up your Company Page and make sure it is fully completed 'All Star'

Create content every week for your LinkedIn ® Page Ensure all your staff have LinkedIn® their profile to your LinkedIn® Page

Ensure all your staff are following your LinkedIn® Page and sharing what you post

Always be recruiting, build your bench of A players and use LinkedIn® to seek the best.
---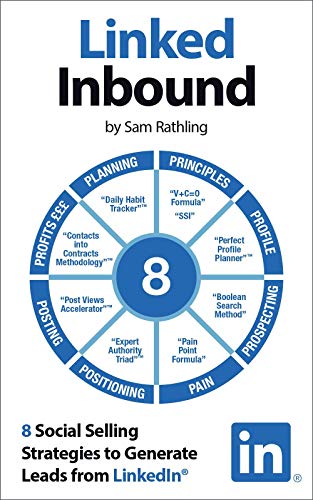 Author(s): Sam Rathling
Short Blurb: This book was written for every individual that knows the huge potential of LinkedIn®, but with no …
Read more
Buy from Amazon
---
Part 21 of 25 in the 📖 Linked Inbound book series.
Series Start | Linked Inbound- Day 20 | Linked Inbound- Day 22
---
Amazon Associates Disclaimer! 💬
As an Amazon Associate, I earn from qualifying purchases. I make a tiny commission if you buy using one of the links above at no additional cost to you. I use the money to buy another book 📖 to review or grab a beer 🍺 Super duper thanks 🙌