This post is part of the 📖 Linked Inbound series.
Today, I am reading Chapter 10: Building Community In Groups from the book Linked Inbound by Sam Rathling.
TL;DR! 💬
This book was written for every individual that knows the huge potential of LinkedIn® but has no idea how to unlock it.
When writing this book, author Sam Rathling Social Selling framework has generated close to £10million in closed business for her clients in a year. Typically, sales directors, CEOs, entrepreneurs, business owners, and Experts pick up this book because they are worried about a weak or empty sales pipeline.
Learn, master and implement 8 strategies discussed in the book Linked Inbound and you will catapult your LinkedIn® results, smash your sales quota, build your brand and achieve everything you want in your business.
Yesterday, I finished reading Chapter 9: Pages: Build your Company Brand from the book Linked Inbound book.
---
CHAPTER 10
Building Community In Groups
The main value of being a member of other people's LinkedIn® groups comes in connecting and network with your target market.
There can also be tremendous value in building your own community on the LinkedIn® platform should you choose to.
Author Sam Rathling cover both options in this chapter.
Types of Groups In LinkedIn®
Here are a few types of groups that you can currently find on LinkedIn®:
Corporate Groups
College / Event Alumni
Non-Profit Groups
Trade Organisations
Conferences & Events
Industry Specific Groups
Networking Groups
Geography Specific Groups
Professional Bodies
Job Title Specific Groups
Shared Interest Groups
How Many Groups Should I be in?
You can be a member of up to 50 groups on LinkedIn® at one time; however you can leave a group at any time, so there's no harm in experimenting and trying different groups out.
Using Groups for Prospecting
One of the favourite things about groups is the ability to message other members in the group, even if you are not connected to them as a 1st-degree connection. This is so powerful for prospecting, as you can reach out to potentially indoor people?? 3rd-degree network and beyond who previously were unreachable.
Should you Create your Own Group?
Creating a group is not for everyone. If you already own and manage a Facebook community, you should consider a LinkedIn ® Group.
This is a potentially substantial reputation-building opportunity, and there are a number of reasons you may want to consider creating a group:
Serve and help your target market
Serve and help your existing clients
Control who gets in so that you can lock out your competitors
Build a community around your brand
Increase your visibility and credibility
That's it for today. Tomorrow, we will read the next chapter, Chapter 11: Premium vs Sales Navigator".
---
Key Takeaways
LinkedIn® groups are another great source of potential clients. Look at the groups where your target market hangs out. Then work your way through the list of members and look at their profiles. Then use the prospecting techniques given in previous chapters to add these people to your LinkedIn ® network.
Summary
Check which LinkedIn® groups you are already a member of.

Search for new groups and add yourself as a member of groups relevant to you.

Practice adding group members in your target market to your LinkedIn ® network.

Choose your top 5-10 Groups in which to focus on being an active member.

Decide if you want to create your own LinkedIn ® Group
---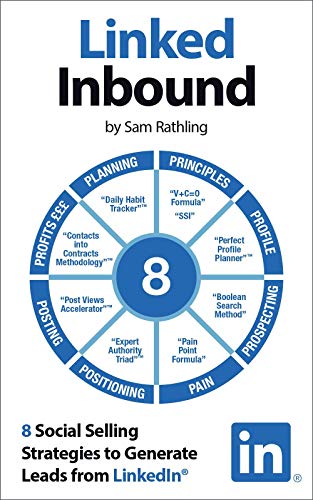 Author(s): Sam Rathling
Short Blurb: This book was written for every individual that knows the huge potential of LinkedIn®, but with no …
Read more
Buy from Amazon
---
Part 22 of 25 in the 📖 Linked Inbound book series.
Series Start | Linked Inbound- Day 21 | Linked Inbound- Day 23
---
Amazon Associates Disclaimer! 💬
As an Amazon Associate, I earn from qualifying purchases. I make a tiny commission if you buy using one of the links above at no additional cost to you. I use the money to buy another book 📖 to review or grab a beer 🍺 Super duper thanks 🙌