This post is part of the 📖 Linked Inbound series.
Today, I am reading Chapter 12: Planning Social Selling Habits from the book Linked Inbound by Sam Rathling.
TL;DR! 💬
This book was written for every individual that knows the huge potential of LinkedIn® but has no idea how to unlock it.
When writing this book, author Sam Rathling Social Selling framework has generated close to £10million in closed business for her clients in a year. Typically, sales directors, CEOs, entrepreneurs, business owners, and Experts pick up this book because they are worried about a weak or empty sales pipeline.
Learn, master and implement 8 strategies discussed in the book Linked Inbound and you will catapult your LinkedIn® results, smash your sales quota, build your brand and achieve everything you want in your business.
Yesterday, I finished reading Chapter 11: Premium vs Sales Navigator from the book Linked Inbound book.
---
CHAPTER 12
Planning Social Selling Habits
The key to success with any form of social selling on any platform is consistency. Your LinkedIn® SSI can go up just as quickly as it can go down.
LinkedIn® membership is like a gym membership. You've actually got to go to the gym, listen to the instructors, follow a system, use the equipment and be consistent to get any results.
It's the same with LinkedIn®, and you need to be active on LinkedIn® daily, not just when you feel like it.
You need to show up, be there, engage with people in your network, build relationships, deliver great content and be consistent with your outreach to prospects for it actually to work.
5 Daily Habits
Each day here are the key things to focus on, all of which will help you drive up your LinkedIn® Social Selling Index (SSI), in just 20 minutes a day:
Log in to LinkedIn®, either on your desktop or the mobile app.

Check your inbox for new messages and respond (2-5 minutes).

Create one post in line with the content strategies shared in Chapter 7 (5 minutes).

Like, Comment and Share on other posts from within your network.

Engage with their content and engage with or create discussions on others posts (1-3 minutes).

Run a boolean search, find 10 prospects in your target market, and send them a personalised connection request. (10 minutes).
There is other weekly and monthly habits explained in the book. It is not ethical to reproduce all the details, so please consider buying the book.
This is one of the best ways to get leads and make sales using LinkedIn. Don't hesitate. Just grab the book and implement the action elements explained in the book.
That's it for today. Tomorrow, we will read the next chapter, Chapter 13: Additional LinkedIn®.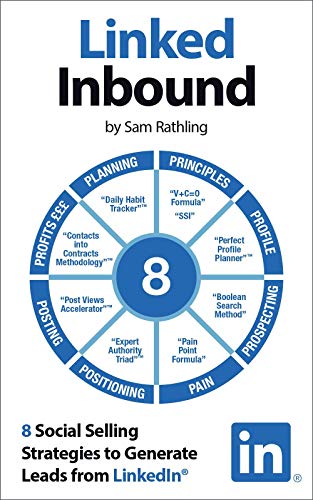 Author(s): Sam Rathling
Short Blurb: This book was written for every individual that knows the huge potential of LinkedIn®, but with no …
Read more
Buy from Amazon
---
Part 24 of 25 in the 📖 Linked Inbound book series.
Series Start | Linked Inbound- Day 23 | Linked Inbound- Day 25
---
Amazon Associates Disclaimer! 💬
As an Amazon Associate, I earn from qualifying purchases. I make a tiny commission if you buy using one of the links above at no additional cost to you. I use the money to buy another book 📖 to review or grab a beer 🍺 Super duper thanks 🙌