This post is part of the 📖 Linked Inbound series.
Today, I am reading Chapter 13: Additional LinkedIn® from the book Linked Inbound by Sam Rathling.
TL;DR! 💬
This book was written for every individual that knows the huge potential of LinkedIn® but has no idea how to unlock it.
When writing this book, author Sam Rathling Social Selling framework has generated close to £10million in closed business for her clients in a year. Typically, sales directors, CEOs, entrepreneurs, business owners, and Experts pick up this book because they are worried about a weak or empty sales pipeline.
Learn, master and implement 8 strategies discussed in the book Linked Inbound and you will catapult your LinkedIn® results, smash your sales quota, build your brand and achieve everything you want in your business.
Yesterday, I finished reading Chapter 12: Planning Social Selling Habits from the book Linked Inbound book.
---
CHAPTER 13
Additional LinkedIn®
In this final chapter, the author provided additional resources to get additional learning tools and materials if you want to continue broadening your knowledge of LinkedIn® and Social Selling.
Visit the LinkedIn ® Help Centre
If you are ever stuck on any aspect of LinkedIn ®, and you don't have this book to hand, then you can always visit the LinkedIn ® Help Centre.
Follow the Official LinkedIn® Blog
You can read the official LinkedIn® Blog on this link. It will always keep you up to date with the latest updates and changes happening on LinkedIn ®: http://blog.linkedin.com
LinkedIn® Learning Centre
This is a section of LinkedIn® that few people know about. LinkedIn® has an entire resource centre where you can learn about so many topics!
There are hundreds of online courses in business, creativity, entrepreneurship, technology, marketing, and so much more. You need to be a paid user of LinkedIn® to access this.
There are other links available where you can join Author Sam's Social Selling Academy course. There is a special discount code has been given in this chapter.
Author Sam Rathling has given her contact details.
Connect with Sam (Author) on Social Media
Sam is keen to connect with all of her readers, so please feel free to reach out and connect any or all of the following:
Subscribe to Sam's YouTube Channel: http://youtube.com/samrathling
Connect with Sam on LinkedIn®: https://uk.LinkedIn.com/in/samrathling-LinkedInexpert
Follow Sam on Twitter: http://twitter.com/samrathling
Like Sam's Facebook Page: http:// facebook.com/ samrathling"
That's it for today. We finished reading the book. Tomorrow, I may read a book.
Taking a Break 🚨
It's been 441 days that I read and write without a break. I am thinking of taking a break, so I am not sure whether I would continue my habit of writing. Whether I write here or not but I will continue to read at least 5 pages a day.
If you have to do just 3 things in life, these are the 3 things I would recommend you do no matter what.
1.) Never stop lifting weights 🏋️‍♀️ (At least 3 times a week) — Health ✅
2.) Never stop saving money 💰 — Wealth ✅
3.) Never stop having new experiences (travelling, reading books 📖, meeting people, trying different cuisines) — Happiness ✅
I hope I have inspired you to start your journey of reading (and writing). Let me know. I am happy to help.
Goodbye! 👋
Love ❤️ // Narendra //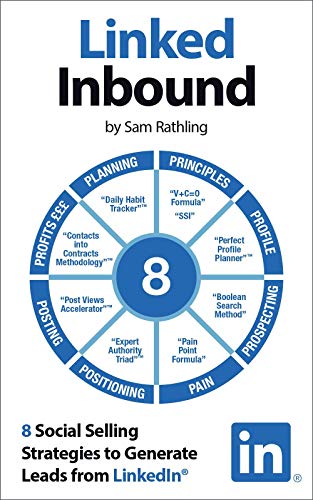 Author(s): Sam Rathling
Short Blurb: This book was written for every individual that knows the huge potential of LinkedIn®, but with no …
Read more
Buy from Amazon
---
Part 25 of 25 in the 📖 Linked Inbound book series.
Series Start | Linked Inbound- Day 24
---
Amazon Associates Disclaimer! 💬
As an Amazon Associate, I earn from qualifying purchases. I make a tiny commission if you buy using one of the links above at no additional cost to you. I use the money to buy another book 📖 to review or grab a beer 🍺 Super duper thanks 🙌