This post is part of the 📖 Linked Inbound series.
Today, I am reading the chapter 8 Social Selling Strategies chapter of the book Linked Inbound written by Sam Rathling.
TL;DR! 💬
This book was written for every individual that knows the huge potential of LinkedIn® but has no idea how to unlock it.
When writing this book, author Sam Rathling Social Selling framework has generated close to £10million in closed business for her clients in a year. Typically, sales directors, CEOs, entrepreneurs, business owners, and Experts pick up this book because they are worried about a weak or empty sales pipeline.
Learn, master and implement 8 strategies discussed in the book Linked Inbound** and you will catapult your LinkedIn® results, smash your sales quota, build your brand and achieve everything you want in your business.
Yesterday, I started reading the Principles of Social Selling chapter from Linked Inbound book.
---
CHAPTER 1: Principles of Social Selling
Your Social Selling Index (SSI)
What is Social Selling?
According to Wikipedia, Social Selling is the process of developing relationships as part of the sales process. It is about leveraging your social network to find the right prospects, build trusted relationships, and ultimately achieve your sales goals.
This sales technique enables better sales to lead generation and sales prospecting process and eliminates the need for cold calling.
"Social Selling is the Art of Selling Without Selling" — Sam Rathling
To find your social selling index, open LinkedIn® on your desktop, open a new tab and go to the link below.
If checking from mobile, then visit: http://LinkedIn.com/sales/ssi on your browser, and you will find out your SSI score.
Your SSI score is made up of 4 sections, under the following headings:
Establish your Professional Brand (Orange)
Find the Right People (Purple)
Engage with Insights (Red)
Build Relationships (Green)
Let's look at each one in more detail as they make up your overall SSI score.
That's it for today. Tomorrow, we will continue to read the same chapter and the same section, Your Social Selling Index (SSI).
---
Key Takeaways
According to LinkedIn®, social selling leaders create 45% more opportunities than peers with a lower SSI.

Social selling leaders are 51% more likely to reach quota, and 78% of social sellers outsell peers who don't use social media.
---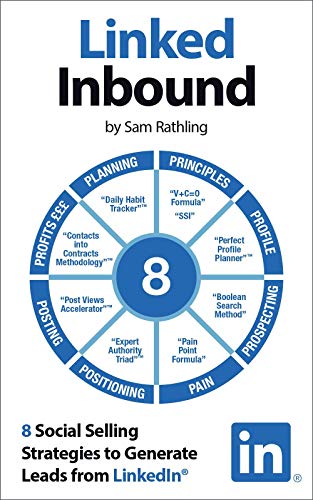 Author(s): Sam Rathling
Short Blurb: This book was written for every individual that knows the huge potential of LinkedIn®, but with no …
Read more
Buy from Amazon
---
Part 3 of 25 in the 📖 Linked Inbound book series.
Series Start | Linked Inbound- Day 2 | Linked Inbound- Day 4
---
Amazon Associates Disclaimer! 💬
As an Amazon Associate, I earn from qualifying purchases. I make a tiny commission if you buy using one of the links above at no additional cost to you. I use the money to buy another book 📖 to review or grab a beer 🍺 Super duper thanks 🙌