This post is part of the 📖 Linked Inbound series.
Today, I am reading the chapter 8 Social Selling Strategies chapter of the book Linked Inbound written by Sam Rathling.
TL;DR! 💬
This book was written for every individual that knows the huge potential of LinkedIn® but has no idea how to unlock it.
When writing this book, author Sam Rathling Social Selling framework has generated close to £10million in closed business for her clients in a year. Typically, sales directors, CEOs, entrepreneurs, business owners, and Experts pick up this book because they are worried about a weak or empty sales pipeline.
Learn, master and implement 8 strategies discussed in the book Linked Inbound and you will catapult your LinkedIn® results, smash your sales quota, build your brand and achieve everything you want in your business.
Yesterday, I started reading the Your Social Selling Index (SSI) section from Linked Inbound book.
---
CHAPTER 1: Principles of Social Selling
The Power of "Givers Gain"
Whether you do so online or offline, networking is all about finding out how you can help people and then doing it! Always focus on how you can help another connection first.
Remember that you first need to build credibility by relationship building; helping the other person in some way could be connecting them to someone in your network or sharing an article that will help them and is relevant to their business.
This is widely known as "Givers Gain"®, which is the philosophy of Business Network International or BNI as it is widely known.
Givers Gain is based on Emerson's Law of Compensation - to get more, give more.
"If you help enough other people to get what they want, you will get what you want in return." — Zig Ziglar.
Know your Target Market
Before tackling any social selling, especially on LinkedIn®, you need to understand your target market truly.
The success of every strategy I am going to give you in this book hinges on you knowing, really knowing, and understanding your target market.
Once you understand your target market, then you have to move to think about the solutions that you provide for them.
What problems do you solve?
Why do clients come to you?
What frustrations do they have?
What challenges cause them to need your products and/or services?
What kind of payoff do they want?
What do they want to improve?
That's it for today. We finished the first chapter. Tomorrow, we will continue to read the next chapter, Chapter 2: Powerful LinkedIn® Profile.
---
Key Takeaways
The REAL problem is never the problem that customers/clients bring you. There is always an underlying, emotion fuelled reason for them speaking with you.
---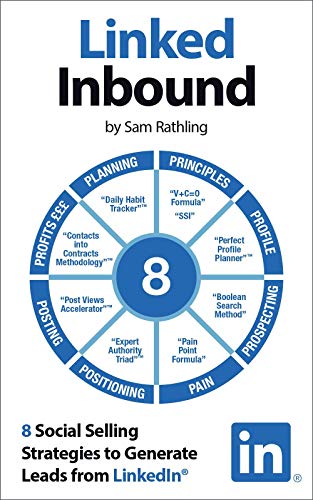 Author(s): Sam Rathling
Short Blurb: This book was written for every individual that knows the huge potential of LinkedIn®, but with no …
Read more
Buy from Amazon
---
Part 5 of 25 in the 📖 Linked Inbound book series.
Series Start | Linked Inbound- Day 4 | Linked Inbound- Day 6
---
Amazon Associates Disclaimer! 💬
As an Amazon Associate, I earn from qualifying purchases. I make a tiny commission if you buy using one of the links above at no additional cost to you. I use the money to buy another book 📖 to review or grab a beer 🍺 Super duper thanks 🙌