This post is part of the 📖 Linked Inbound series.
Today, I am reading the chapter 2: Powerful LinkedIn® Profile chapter of the book Linked Inbound written by Sam Rathling.
TL;DR! 💬
This book was written for every individual that knows the huge potential of LinkedIn® but has no idea how to unlock it.
When writing this book, author Sam Rathling Social Selling framework has generated close to £10million in closed business for her clients in a year. Typically, sales directors, CEOs, entrepreneurs, business owners, and Experts pick up this book because they are worried about a weak or empty sales pipeline.
Learn, master and implement 8 strategies discussed in the book Linked Inbound and you will catapult your LinkedIn® results, smash your sales quota, build your brand and achieve everything you want in your business.
Yesterday, I finished reading The Power of "Givers Gain" section of the first chapter, Principles of Social Selling, from the Linked Inbound book.
---
CHAPTER 2
Powerful LinkedIn® Profile
Your LinkedIn® profile is your digital ambassador, representing you and your business 24 hours a day, 7 days a week, 365 days a year.
A compelling LinkedIn® profile can be the difference between you winning a client or the prospect going to your competition.
The most important question to ask is:
"Would you become a customer of you, based on your current LinkedIn® profile?"
There are 13 areas of your LinkedIn® profile that need your attention. They are listed below:
1. Use the Right Name
Make sure that the name you use on LinkedIn® is the name people know you by in business and matches the name they would search for you on LinkedIn®.
2. 100% Profile Complete - Become an ALL STAR
The initial goal of any LinkedIn® Personal profile is 100% completion, any number less than 100% is simply saying 'I couldn't be bothered.
Less than 100% affects your credibility, and this also impacts your power to attract new connections.
Ensure that each section of your profile is complete, from your education to your work history, skills, summary, and headline.
3. Your Professional Headline
Your LinkedIn® Professional Headline, when written well, can drive massive opportunities your way, whether that be job offers or new clients.
The professional headline of your LinkedIn® profile is the one short description, 110 characters in length, that you can see underneath your name on your profile. It is also what others see when you post an update or ask someone to connect with you.
4. The Importance of Keywords and the Professional Headline
As with all web-based content, your LinkedIn® Professional Headline is keyword searchable. Pick one main keyword or phrase that you want to be found.
That's it for today. Tomorrow, we will continue to read the same chapter, Chapter 2: Powerful LinkedIn® Profile.
---
Key Takeaways
By changing Your Professional Headline on LinkedIn®, which is 110 characters to include what you offer and what you want to be found for, you will change your visibility, credibility and profitability on LinkedIn®.

In summary, your professional Headline should feature your main keyword twice—the earlier in the headline, the better.
---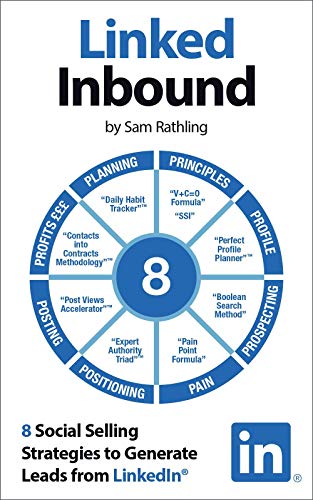 Author(s): Sam Rathling
Short Blurb: This book was written for every individual that knows the huge potential of LinkedIn®, but with no …
Read more
Buy from Amazon
---
Part 6 of 25 in the 📖 Linked Inbound book series.
Series Start | Linked Inbound- Day 5 | Linked Inbound- Day 7
---
Amazon Associates Disclaimer! 💬
As an Amazon Associate, I earn from qualifying purchases. I make a tiny commission if you buy using one of the links above at no additional cost to you. I use the money to buy another book 📖 to review or grab a beer 🍺 Super duper thanks 🙌