This post is part of the 📖 Linked Inbound series.
Today, I am reading the chapter 2: Powerful LinkedIn® Profile chapter of the book Linked Inbound written by Sam Rathling.
TL;DR! 💬
This book was written for every individual that knows the huge potential of LinkedIn® but has no idea how to unlock it.
When writing this book, author Sam Rathling Social Selling framework has generated close to £10million in closed business for her clients in a year. Typically, sales directors, CEOs, entrepreneurs, business owners, and Experts pick up this book because they are worried about a weak or empty sales pipeline.
Learn, master and implement 8 strategies discussed in the book Linked Inbound and you will catapult your LinkedIn® results, smash your sales quota, build your brand and achieve everything you want in your business.
Yesterday, I started reading Powerful LinkedIn® Profile chapter from the Linked Inbound book.
---
CHAPTER 2
Powerful LinkedIn® Profile
5. Your Photograph
It sounds obvious, I know, but your professional photograph should be precisely that… professional.
In a smart business suit, regardless of your trade or profession and taken by a professional photographer, preferably with a friendly and inviting picture.
You only get one chance to make an impression on LinkedIn®.
6. Your Public URL
Your public URL is the small blue link that appears at the bottom of your LinkedIn® profile. LinkedIn® generates this and quite often contains random numbers and letters.
You can edit this to make it match your name or business name. Change the public URL to your name or your name and business name.
Once you have a public URL, you are happy with it, and you can then use this link to drive visits and connections from your email signature, website, business card, and other social media channels.
If you are starting in business and don't have a website yet, you can use this link to give people a place to learn more about you and your business.
7. Your 'About' Section
This is the section directly underneath your photograph and contact details. You can add an 'About' section, which summarises you and your business and/or career; this is under-utilised by so many on LinkedIn®.
The MOST important thing to bear in mind is that the profile should be written with your exact target market in mind.
Your 'About' Section is 2000 characters demonstrating your credibility, how you specialise in helping people just like them, how you understand their challenges and how you can help them.
8. Your Experience
The section covering your previous positions and jobs is important because it allows LinkedIn® to suggest potential connections for you based on where you have worked before.
Make sure you complete this but don't write a novel under each heading, just a few lines. The one to focus on would be your current role.
This is an area for you to add more keywords, explain your products and services in more detail, and expand upon what you do in your role. This should be different to your 'About' section.
That's it for today. Tomorrow, we will continue to read the same chapter, Chapter 2: Powerful LinkedIn® Profile.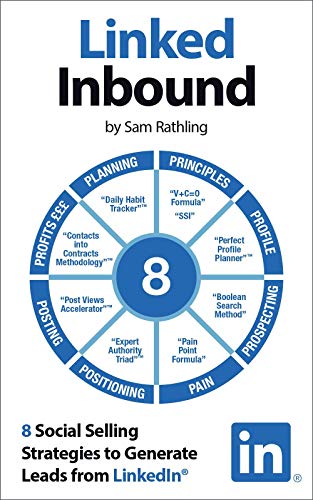 Author(s): Sam Rathling
Short Blurb: This book was written for every individual that knows the huge potential of LinkedIn®, but with no …
Read more
Buy from Amazon
---
Part 7 of 25 in the 📖 Linked Inbound book series.
Series Start | Linked Inbound- Day 6 | Linked Inbound- Day 8
---
Amazon Associates Disclaimer! 💬
As an Amazon Associate, I earn from qualifying purchases. I make a tiny commission if you buy using one of the links above at no additional cost to you. I use the money to buy another book 📖 to review or grab a beer 🍺 Super duper thanks 🙌