This post is part of the 📖 Linked Inbound series.
Today, I am reading the chapter 3: Personal Recommendations chapter of the book Linked Inbound written by Sam Rathling.
TL;DR! 💬
This book was written for every individual that knows the huge potential of LinkedIn® but has no idea how to unlock it.
When writing this book, author Sam Rathling Social Selling framework has generated close to £10million in closed business for her clients in a year. Typically, sales directors, CEOs, entrepreneurs, business owners, and Experts pick up this book because they are worried about a weak or empty sales pipeline.
Learn, master and implement 8 strategies discussed in the book Linked Inbound and you will catapult your LinkedIn® results, smash your sales quota, build your brand and achieve everything you want in your business.
Yesterday, I finished reading Powerful LinkedIn® Profile chapter from the Linked Inbound book.
---
CHAPTER 3
Personal Recommendations
Recommendations are all about credibility; they are social proof that you are good at what you do and others should also buy from you.
Suppose you are using LinkedIn® to generate leads or build your brand to position you as a 'go-to' person in your industry or specialisation. In that case, you need to pay attention to recommendations on your profile.
As an absolute minimum, you should be aiming for 10+, but to drive inbound leads and have people coming to you, your aim should be to become the most recommended version of you on LinkedIn®.
Potential clients can read great stories about how you have helped your existing clients on your LinkedIn® profile, so it's worth investing some time in getting the right kind of recommendations.
Here are some tips on how you can build in recommendations to your sales process:
If you speak on stages, then at the end of your presentation, ask for LinkedIn® recommendations if they got value.
Look at your case studies and testimonials on your website. These people have already recommended you, just not on LinkedIn®. Revisit these people and ask them to put the same text up on LinkedIn® as a recommendation.
If you deliver workshops or training, then you can ask participants for a LinkedIn® recommendation. This is a great way to build up the number of recommendations on your profile quickly.
Every new review on other platforms can and should be turned into a LinkedIn® recommendation.
We all know the importance of reviews. As my good friend, Gordon Burcham, always says, "nobody buys the products on Amazon, they buy the reviews".
Action #1:
Think of 3 people right now, with whom you have done business, which you could give a recommendation to
Action #2: Now think of 3 people who you could ask to recommend you.
That's it for today. Tomorrow, we will continue to read the same chapter, Chapter 3: Personal Recommendations and know some ideas on who you could recommend.
---
Key takeaways
Each time someone leaves you a Facebook review or a review on your Google my Business page, then ask that person to copy and paste it into LinkedIn® as a recommendation for you.
The best way to build up your recommendations is to GIVE them! Every time you give a recommendation, you are helping another person. This giving activity is a great way to build relationships, motivate your network to help you back and build greater credibility.
---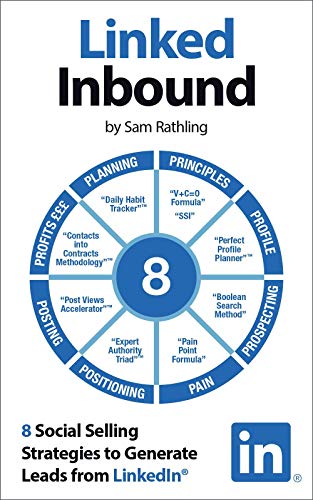 Author(s): Sam Rathling
Short Blurb: This book was written for every individual that knows the huge potential of LinkedIn®, but with no …
Read more
Buy from Amazon
---
Part 9 of 25 in the 📖 Linked Inbound book series.
Series Start | Linked Inbound- Day 8 | Linked Inbound- Day 10
---
Amazon Associates Disclaimer! 💬
As an Amazon Associate, I earn from qualifying purchases. I make a tiny commission if you buy using one of the links above at no additional cost to you. I use the money to buy another book 📖 to review or grab a beer 🍺 Super duper thanks 🙌