This post is part of the 📖 Nine Lies About Work series.
Today, I am reading the Introduction chapter of the brand new book Nine Lies About Work written by Authors Marcus Buckingham & Ashley Goodall.
TL;DR! 💬
There are some big lies, distortions, faulty assumptions, wrong thinking that we encounter every time we show up for work. Nine lies, to be exact. They cause dysfunction and frustration, ultimately resulting in workplaces that are a pale shadow of what they could be.
By reading Nine Lies About Work, you can get past the lies and discover what's real. These freethinking leaders recognize the power and beauty of our uniqueness. They know that emergent patterns are more valuable than received wisdom and that evidence is more powerful than dogma.
Introduction
Why is it a settled truth that all the best leaders possess a defined list of attributes that you should aspire to acquire when, in our everyday lives, none of us has ever met a leader with all of these attributes?
This paradox led to the core idea and audience of the book.
The idea is this: the world of work today is overflowing with systems, processes, tools, and assumptions that are deeply flawed and push directly against our ability to express what is unique about each of us in the work we do every day.
Whatever our current practices may be, they are no longer giving us much lift.
We could call these things "misconceptions," or "myths," or even "misunderstandings," but because they are pushed at us so hard, almost as if they're being used to steer us away from the world as it truly is, we'll call them "lies."
There are nine of them in this book.
LIE #1: People care which company they work for

LIE #2: The best plan wins

LIE #3: The best companies cascade goals

LIE #4: The best people are well-rounded

LIE #5: People need feedback

LIE #6: People can reliably rate other people

LIE #7: People have potential

LIE #8: Work-life balance matters most

LIE #9: Leadership is a thing
Who are the audience?
The audience we (authors) imagined was someone leading a team for the first time, facing a glorious but challenging world. Someone who wants to do something extraordinary with their team, achieve greatness with them, enable greatness for them, and become the kind of leader they talk about for years to come.
---
That's it for today. Tomorrow, we will read the first lie LIE #1: People care which company they work for.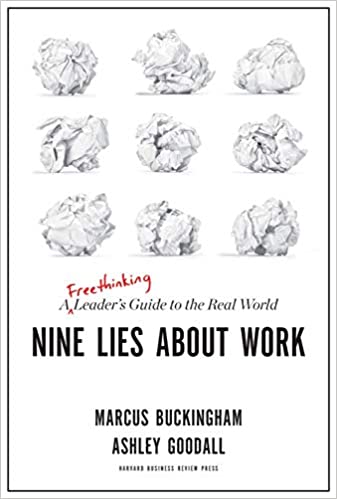 Author(s): Marcus Buckingham
Author(s): Ashley Goodall
Short Blurb: How do you get to what's real? Your organization's culture is the key to its success. Strategic …
Read more
Buy from Amazon
---
Part 1 of 23 in the 📖 Nine Lies About Work book series.
---
Amazon Associates Disclaimer! 💬
As an Amazon Associate, I earn from qualifying purchases. I make a tiny commission if you buy using one of the links above at no additional cost to you. I use the money to buy another book 📖 to review or grab a beer 🍺 Super duper thanks 🙌