This post is part of the 📖 Nine Lies About Work series.
Today, I am reading the LIE #2: The Best Plan Wins chapter of book Nine Lies About Work written by Authors Marcus Buckingham & Ashley Goodall.
TL;DR! 💬
There are some big lies, distortions, faulty assumptions, wrong thinking that we encounter every time we show up for work. Nine lies, to be exact. They cause dysfunction and frustration, ultimately resulting in workplaces that are a pale shadow of what they could be.
By reading Nine Lies About Work, you can get past the lies and discover what's real. These freethinking leaders recognize the power and beauty of our uniqueness. They know that emergent patterns are more valuable than received wisdom and that evidence is more powerful than dogma.
Yesterday, I finished reading the LIE #1: People care which company they work for chapter from Nine Lies About Work book.
Chapter #2
LIE #2: The Best Plan Wins
If you've recently been promoted to team leader, the first thing you'll be expected to do is create a plan. You'll be asked—before you even start, most likely—what your plan is for your team, or, more specifically, what your ninety-day plan is for your team.
You'll have to sit down, think hard, survey your team members (many of whom you will have inherited), and then make your best George Clooney impression and make your plan.
Everywhere we look, we see this speed of change. When you put your plan together in September, it's obsolete by November. And if you look at it in January, you might not even recognize the roles and action items you wrote out in the fall.
Though you are told that the best plan wins, the reality is quite different. Many plans, particularly those created in large organizations, are overly generalized, quickly obsolete, and frustrating to those asked to execute them.
It's far better to coordinate your team's efforts in real-time, relying heavily on each unique team member's informed, detailed intelligence.
---
Key Takeaways
Plan is an exercise in engaging in a present that will soon be gone.

The thing we call planning doesn't tell you where to go; it just helps you understand where you are. Or rather, were. Recently.
---
That's it for today. Tomorrow, we will continue to read the same chapter LIE #2: The Best Plan Wins.
What lies we've learned so far?
LIE #1: People care which company they work for

We, as team members, want our team leader to make us feel part of something bigger, that he/she shows us how what we are doing together is important and meaningful. You as a team leader make us feel that you can see us, and connect to us, and care about us, and challenge us in a way that recognizes who we are as individuals.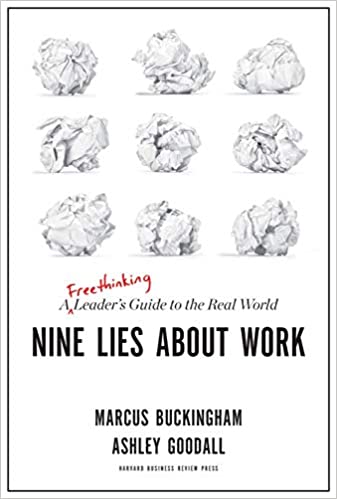 Author(s): Marcus Buckingham
Author(s): Ashley Goodall
Short Blurb: How do you get to what's real? Your organization's culture is the key to its success. Strategic …
Read more
Buy from Amazon
---
Part 4 of 23 in the 📖 Nine Lies About Work book series.
Series Start | Nine Lies About Work - Day 3 | Nine Lies About Work - Day 5
---
Amazon Associates Disclaimer! 💬
As an Amazon Associate, I earn from qualifying purchases. I make a tiny commission if you buy using one of the links above at no additional cost to you. I use the money to buy another book 📖 to review or grab a beer 🍺 Super duper thanks 🙌