This post is part of the 📖 Oversubscribed series.
Today, I am reading the PRINCIPLE #7: MEET PEOPLE WHERE THEY ARE, SPEAK TO THEM IN THEIR LANGUAGE section from PART 1 of the book Oversubscribed: How To Get People Lining Up To Do Business With You written by Author, Daniel Priestley.
TL;DR! 💬
Are you constantly chasing customers? Why does it seem like some businesses have their customers begging to purchase their goods or services?
Learn how to get your business oversubscribed in a crowded marketplace to make your business stand out and get people lining up to do business with you.
The Book Oversubscribed is the guide to transforming your business into one which customers fight over! This invaluable guide will teach you how to drive demand for your products or services far beyond supply and will dramatically increase the success of your business.
Yesterday, we started reading PRINCIPLE #6: VALUE IS CREATED IN THE ECOSYSTEM.
PART 1
PRINCIPLE 7
MEET PEOPLE WHERE THEY ARE, SPEAK TO THEM IN THEIR LANGUAGE
You are in the business of transformation: moving people from their current state to something they want even more.
If you want to take people on a journey, you must meet them where they are, communicate with them in the language that resonates with them now and shows them a clear picture of where they will end up if they go with you.
MORE DATA, MORE SALES
Brands will adopt the approach of gathering as much data about people as possible and then hyper‐targeting their marketing messages to people based on their existing preferences.
Eventually, every marketing campaign will speak directly to the person who's seeing it.
HYPER‐TARGETING IS YOUR MARKETING GOAL
Hyper‐targeted marketing presents an entirely new business landscape that crosses all kinds of traditional and ethical boundaries.
Before this era of data‐driven marketing, advertising and campaigning were conducted out in the open for everyone to see and evaluate the same information.
In the future, all people live within their own news and information bubble that is being constructed just for them.
DATA IS THE LIFEBLOOD OF MARKETING
Small businesses need to adapt fast to this way of marketing.
Being hyper‐targeted and customised to people's needs was once the boutique companies' domain, but it is fast becoming the strength of big brands.
Key Takeaways
Small businesses need to discover ways to collect more (much, much more) data about their customers and then use that information to create laser-focused marketing campaigns for individuals based on that data.

Your business needs to conduct surveys, scorecards and quizzes with your clients so that you have access to unique data insights.

You need proprietary data to stay oversubscribed with minimal spending.

The more data you collect, the less you need to spend on sales and marketing.
Summary
In the future, companies that waste their marketing budgets on people who aren't interested in the message will be put out of business by companies using data to communicate more powerfully.
That's it for today. Tomorrow, we will continue to read PRINCIPLE #7: DATA CREATES LOVE.
RECAP 👊
Up to now, we read 6 principles
ONLY OVERSUBSCRIBED BUSINESSES MAKE A PROFIT.
THE ONLY PEOPLE THAT MATTER ARE YOUR PEOPLE.
FIRST MAKE YOUR MARKET THEN MAKE YOUR SALES.
PEOPLE BUY WHEN THE CONDITIONS ARE RIGHT.
BE DIFFERENT AND SET YOUR OWN RULES.
VALUE IS CREATED IN THE ECOSYSTEM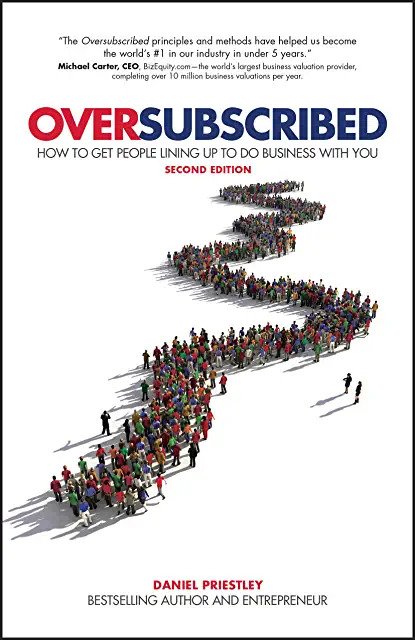 Author(s): Daniel Priestley
Short Blurb: Learn how to get your business oversubscribed in a crowded marketplace to make your business stand …
Read more
Buy from Amazon
---
Part 12 of 32 in the 📖 Oversubscribed book series.
Series Start | Oversubscribed: How To Get People Lining Up To Do Business With You - Day 11 | Oversubscribed: How To Get People Lining Up To Do Business With You - Day 13
---
Amazon Associates Disclaimer! 💬
As an Amazon Associate, I earn from qualifying purchases. I make a tiny commission if you buy using one of the links above at no additional cost to you. I use the money to buy another book 📖 to review or grab a beer 🍺 Super duper thanks 🙌