This post is part of the 📖 Oversubscribed series.
Today, I am reading a chapter ONLY OVERSUBSCRIBED BUSINESSES MAKE A PROFIT from the PART 1 of the book Oversubscribed: How To Get People Lining Up To Do Business With You written by Author, Daniel Priestley.
TL;DR! 💬
Are you constantly chasing customers? Why does it seem like some businesses have their customers begging to purchase their goods or services?
Learn how to get your business oversubscribed in a crowded marketplace to make your business stand out and get people lining up to do business with you.
The Book Oversubscribed is the guide to transforming your business into one which customers fight over! This invaluable guide will teach you how to drive demand for your products or services far beyond supply and will dramatically increase the success of your business.
Yesterday, we started reading part 1 and left in the middle of the PRINCIPLES FOR BECOMING OVERSUBSCRIBED chapter.
PART 1
PRINCIPLES FOR BECOMING OVERSUBSCRIBED
PROFITS, LOSSES OR WAGES?
There are three ways you can set up the demand and supply relationship:
Oversubscribed – Demand outstrips supply, resulting in profit being tolerated on top of normal wages.

Balanced: Demand and supply are relatively even, resulting in normal wages being accepted but not profit.

Undersubscribed – Excess supply is available above demand, resulting in losses.
It doesn't matter what the product is, where the business is based or how dedicated the team members are.
The only thing that matters is the relationship between demand and supply.
PRINCIPLE 2
THE ONLY PEOPLE THAT MATTER ARE YOUR PEOPLE
Being part of an open market is a problem; you'll forever be battling the forces of demand and supply outside of your control.
Having a market of your own is the key to becoming oversubscribed.
CREATE YOUR OWN MARKET
Let's take a look at actors in the US as an example of an industry in oversupply.
About 99% of actors can't afford to live on the money they earn from acting. Fewer than 1,000 actors in the US make over $150,000 a year.
Yet, for some actors, a fee of millions per film isn't only a possibility; people line up to pay it. These actors are separate from the market. They have made their own market.
George Clooney, Brad Pitt, Sandra Bullock, Jennifer Lawrence and Julia Roberts have millions of people who will see a film if they are in it. They have created their own market, and they are oversubscribed.
Their income isn't linked to the market; it's connected to their market.
Creating your own market is about solving bigger problems for people than others do. Being unique is not about performing a task at a high standard; it's about having a unique ability to get things done. — Priestley, Daniel. [Oversubscribed]()
You must start to build your own group of loyal fans. Cultivate a tribe of loyal people to your business, your products, your personality and your philosophy. Rally your own troops. Break those people away from the industry, separate them one by one from the market and make them part of something special.
We're going to explore several ways to carve out your own market.
Key Takeaways
Create your own market that is not linked to the mass market.

If you separate from the market and build your own market, you can generate as much money as your market will allow.
Summary
It is still within your power to become oversubscribed and enjoy profits on top of your industry's normal wages by creating a market of your own.
That's it for today. Tomorrow, we will continue to read the PRINCIPLE 2 - THE ONLY PEOPLE THAT MATTER ARE YOUR PEOPLE section.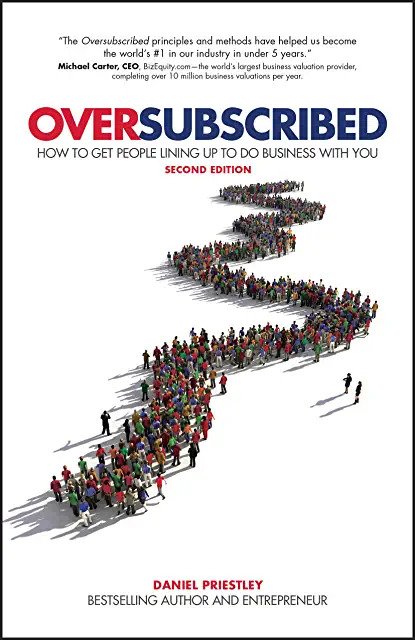 Author(s): Daniel Priestley
Short Blurb: Learn how to get your business oversubscribed in a crowded marketplace to make your business stand …
Read more
Buy from Amazon
---
Part 3 of 32 in the 📖 Oversubscribed book series.
Series Start | Oversubscribed: How To Get People Lining Up To Do Business With You - Day 2 | Oversubscribed: How To Get People Lining Up To Do Business With You - Day 4
---
Amazon Associates Disclaimer! 💬
As an Amazon Associate, I earn from qualifying purchases. I make a tiny commission if you buy using one of the links above at no additional cost to you. I use the money to buy another book 📖 to review or grab a beer 🍺 Super duper thanks 🙌