This post is part of the 📖 Oversubscribed series.
Today, I am reading PART #3: YOU, YOUR TEAM AND THE TIMES WE LIVE IN from the book Oversubscribed: How To Get People Lining Up To Do Business With You written by Author, Daniel Priestley.
TL;DR! 💬
Are you constantly chasing customers? Why does it seem like some businesses have their customers begging to purchase their goods or services?
Learn how to get your business oversubscribed in a crowded marketplace to make your business stand out and get people lining up to do business with you.
The Book Oversubscribed is the guide to transforming your business into one which customers fight over! This invaluable guide will teach you how to drive demand for your products or services far beyond supply and will dramatically increase the success of your business.
Yesterday, we started reading GET READY TO SURF THE WAVES section from the PART 3#: YOU, YOUR TEAM AND THE TIMES WE LIVE IN.
PART III
YOU, YOUR TEAM AND THE TIMES WE LIVE IN
THE CAMPAIGN‐ DRIVEN ENTERPRISE TEAM
Business is complex, and it's impossible to do everything on your own.
Succeeding beyond the 2020s requires you to be part of a dynamic and aligned team.
To become oversubscribed, you'll need to assemble this core group of people to take on the challenge of making your business oversubscribed. This will require a campaign‐ driven enterprise team of at least four people taking on key roles:
1) Key person of influence
This is someone who is known, liked and trusted in the industry. The person has a powerful network, can make a deal come to fruition, has genuine insights and is commercially successful. The person sets the tone of the culture, defines the vision and embodies the team's values.
2) Head of sales and marketing
This person is responsible for generating warm leads, making sales and collecting referrals. The person is focused on attracting business through well-executed campaigns.
3) Head of operations and products
This person is responsible for delighting customers. The individual in this role aims for every client to love his or her experience so much that he/she refers more clients to the business.
4) Head of finance, logistics and reporting
This person is on top of the money and the numbers, looking for ways to create efficiencies, provide useful reports to the team and ensure all compliance issues are handled. The person is also responsible for purchasing, logistics and payments.
The author discussed all the roles in more detail in the book.
Key Takeaways
You must have a high‐ performance team at the beginning of any new project. If you've not done this so far, then the time to recruit your team is now.
Summary
Many bigger businesses even assume that it's ideal to grow first, then recruit, but the team you have today has gotten you this far; to go further, you need more and better players.

In bigger companies, it's important to recognise that you have to recruit the new A players first, and then the new growth comes.
That's it for today. Tomorrow, We will continue to read PART #3: YOU, YOUR TEAM AND THE TIMES WE LIVE IN.
RECAP 👊
PART 1: PRINCIPLES
ONLY OVERSUBSCRIBED BUSINESSES MAKE A PROFIT.
THE ONLY PEOPLE THAT MATTER ARE YOUR PEOPLE.
FIRST MAKE YOUR MARKET THEN MAKE YOUR SALES.
PEOPLE BUY WHEN THE CONDITIONS ARE RIGHT.
BE DIFFERENT AND SET YOUR OWN RULES.
VALUE IS CREATED IN THE ECOSYSTEM
MEET PEOPLE WHERE THEY ARE, SPEAK TO THEM IN THEIR LANGUAGE
NOTHING BEATS BEING POSITIVELY REMARKABLE
PART 2: TURNING PRINCIPLES INTO STRATEGY
CAMPAIGN PLANNING: KNOW YOUR CAPACITY, WHO IT'S FOR AND WHEN YOU CAN DELIVER IT.
BUILD-UP: WARMING UP THE MARKET WHILE SENDING AND COLLECTING SIGNALS
OVERSUBSCRIBED RELEASE: COMMUNICATING DEMAND AND SUPPLY TENSION BEFORE ALLOWING PEOPLE TO BUY
SALES FOLLOW‐ THROUGH: PROACTIVELY FOLLOW UP WITH PROSPECTS TO MAXIMISE THE EFFECTIVENESS OF YOUR CAMPAIGN
CELEBRATE AND INNOVATE
PART 3: YOU, YOUR TEAM AND THE TIMES WE LIVE IN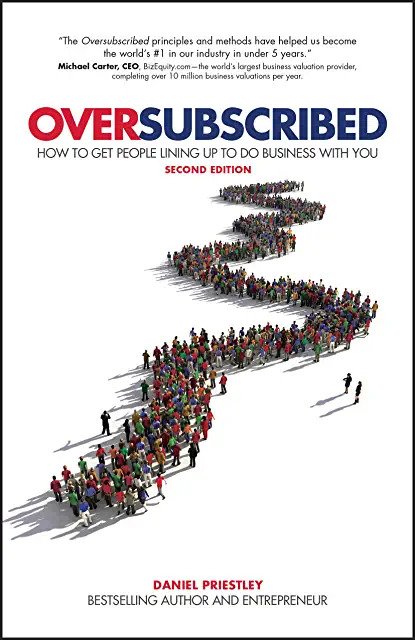 Author(s): Daniel Priestley
Short Blurb: Learn how to get your business oversubscribed in a crowded marketplace to make your business stand …
Read more
Buy from Amazon
---
Part 31 of 32 in the 📖 Oversubscribed book series.
Series Start | Oversubscribed: How To Get People Lining Up To Do Business With You - Day 30 | Oversubscribed: How To Get People Lining Up To Do Business With You - Day 32
---
Amazon Associates Disclaimer! 💬
As an Amazon Associate, I earn from qualifying purchases. I make a tiny commission if you buy using one of the links above at no additional cost to you. I use the money to buy another book 📖 to review or grab a beer 🍺 Super duper thanks 🙌