This post is part of the 📖 Oversubscribed series.
Today, I am reading PART #3: YOU, YOUR TEAM AND THE TIMES WE LIVE IN from the book Oversubscribed: How To Get People Lining Up To Do Business With You written by Author, Daniel Priestley.
TL;DR! 💬
Are you constantly chasing customers? Why does it seem like some businesses have their customers begging to purchase their goods or services?
Learn how to get your business oversubscribed in a crowded marketplace to make your business stand out and get people lining up to do business with you.
The Book Oversubscribed is the guide to transforming your business into one which customers fight over! This invaluable guide will teach you how to drive demand for your products or services far beyond supply and will dramatically increase the success of your business.
Yesterday, we started reading THE CAMPAIGN‐ DRIVEN ENTERPRISE TEAM section from the PART 3#: YOU, YOUR TEAM AND THE TIMES WE LIVE IN.
PART III
YOU, YOUR TEAM AND THE TIMES WE LIVE IN
CREATING CULTURE FROM THE BEGINNING
To create a high‐ performing team, you need a high‐ performance culture. Culture centres on aligning your team to a clear vision, mission and values.
Author Daniel Priestley also believes it's important to create maxims or principles that set the direction for how we face the challenges of business as a team.
In essence, you have to create these 4 things for your company irrespective of the company's size.
Vision
Mision
Values
Maxims
Author Daniel Priestley gave his companies example for vision, mission and values.
But I want to show you the maxims he set it for his own business.
Here are the maxims from the book:
You get what you pitch for, and you're always pitching
Words have power. You can speak into existence almost any outcome. Be careful what you talk about, good or bad, because you could be pitching it into existence.
Influence comes from output
Influence isn't something that comes from being cool or using manipulative techniques; instead, it comes from the prolific output at a high standard.
Sharpen ideas in your market, not in your mind.
Income follows assets
Assets are anything that would be valuable tomorrow if the team was hit by a bus today. A brochure, a system, a video, a training document and a sales script are all assets.
Your job is to create assets and then use them to their fullest.
We get famous from the results of our clients
You aren't trying to put yourselves in the spotlight; instead, you're looking for ways to showcase your clients' success stories and let their results speak for you.
We are in partnership with everyone who touches our business
Act out of deep care and respect for the needs and wants of the people with whom our business comes into contact. Think of everyone as a partner in our success and we as a partner in their success.
Prolific beats perfect
No company is perfect; everyone makes mistakes. Keep moving forward and keep driving your business better. We don't need to be perfect; directionally accurate moves are better than procrastination.
Innovation never ends
Top companies spend 5% to 15% of their revenues on research, training and development. Stagnant companies avoid innovation, training, development and research because of what they perceive it costs. You invest in innovation, and it doesn't stop.
CAMPAIGNING FOR CHANGE
Every time the world changes, it's because of a campaign.
The human rights movement was a campaign for change. The abolition of slavery was a campaign for change. The suffragette movement was a campaign for change.
So many of the rights and privileges we now take for granted started as campaigns for change.
Key Takeaways
Keep improving. Keep getting creative. Keep having fun.

Your business really take off when you focus on helping people to develop and achieve a deeper personal mission.

Entrepreneurs who can unlock the value of contribution will be significantly rewarded now and in the future.
Summary
Don't just do the business for the money; do it for a deeper reason, to make a difference and to give back.

You only need to start with a small team of four people (Key person of influence, Head of sales and marketing, Head of operations and products, Head of finance, logistics and reporting) who have an aligned vision to become oversubscribed to run successful campaigns.
That's it for today. We finished reading this great book. Tomorrow, I will read a new book. I have 24 hours to decide.
RECAP 👊
PART 1: PRINCIPLES
ONLY OVERSUBSCRIBED BUSINESSES MAKE A PROFIT.
THE ONLY PEOPLE THAT MATTER ARE YOUR PEOPLE.
FIRST MAKE YOUR MARKET THEN MAKE YOUR SALES.
PEOPLE BUY WHEN THE CONDITIONS ARE RIGHT.
BE DIFFERENT AND SET YOUR OWN RULES.
VALUE IS CREATED IN THE ECOSYSTEM
MEET PEOPLE WHERE THEY ARE, SPEAK TO THEM IN THEIR LANGUAGE
NOTHING BEATS BEING POSITIVELY REMARKABLE
PART 2: TURNING PRINCIPLES INTO STRATEGY
CAMPAIGN PLANNING: KNOW YOUR CAPACITY, WHO IT'S FOR AND WHEN YOU CAN DELIVER IT.
BUILD-UP: WARMING UP THE MARKET WHILE SENDING AND COLLECTING SIGNALS
OVERSUBSCRIBED RELEASE: COMMUNICATING DEMAND AND SUPPLY TENSION BEFORE ALLOWING PEOPLE TO BUY
SALES FOLLOW‐ THROUGH: PROACTIVELY FOLLOW UP WITH PROSPECTS TO MAXIMISE THE EFFECTIVENESS OF YOUR CAMPAIGN
CELEBRATE AND INNOVATE
PART 3: YOU, YOUR TEAM AND THE TIMES WE LIVE IN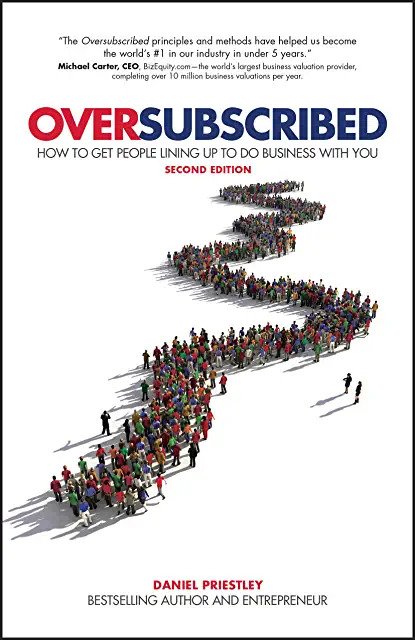 Author(s): Daniel Priestley
Short Blurb: Learn how to get your business oversubscribed in a crowded marketplace to make your business stand …
Read more
Buy from Amazon
---
Part 32 of 32 in the 📖 Oversubscribed book series.
Series Start | Oversubscribed: How To Get People Lining Up To Do Business With You - Day 31
---
Amazon Associates Disclaimer! 💬
As an Amazon Associate, I earn from qualifying purchases. I make a tiny commission if you buy using one of the links above at no additional cost to you. I use the money to buy another book 📖 to review or grab a beer 🍺 Super duper thanks 🙌