This post is part of the 📖 Start From Zero series.
The goal of this book is to build the brain of an entrepreneur, one that can build meaningful businesses and income streams from nothing.
Little Rock number 2: The Cardinal rule of successful Entrepreneurs
According to Dane, you shouldn't break the rule. If you break then you screw yourself. Follow this rule and become wildly rich.
Here is the rule: We do not get to decide what works. It's about listening.
In this rule, you just listen deeply to the pulse of what works and create wealth around that.
Little Rock Number 3: Handle the jealousy trap with open-hearted curiosity
If you are jealous, you are screwed. It's a low vibration experience that shuts off all creativity.
All. Creativity.
Open your heart, ask a question like this.
what can I learn from this person product or business that I am jealous of what qualities do they have that I actually admire
Catchy Words
The request to come in with my laptop was the opening volley in my termination.
I recognised their entrepreneurial souls, stuck like cogs in a wheel.
Key Takeaways
Swallow your pride and remember to open your heart and start listening.
Jealousy locks you into place.
Joy is a superpower in business.
Summary:
Business is about so much more than freedom; it's a place to find yourself.
You must read this book. I am super impressed even before I enter into the second chapter of the book.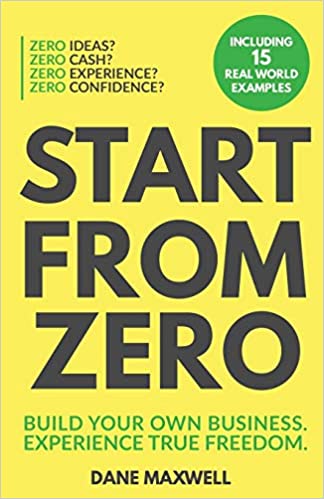 Author(s): Dane Maxwell
Short Blurb: Embark on 7 Learning Adventures to Create a Business From Scratch. This book includes research on …
Read more
Buy from Amazon
---
Part 2 of 25 in the 📖 Start From Zero book series.
Start From Zero - Day 1 | Start From Zero - Day 3
---
Amazon Associates Disclaimer! 💬
As an Amazon Associate, I earn from qualifying purchases. I make a tiny commission if you buy using one of the links above at no additional cost to you. I use the money to buy another book 📖 to review or grab a beer 🍺 Super duper thanks 🙌