This post is part of the 📖 Start From Zero series.
"Every day I woke up to work for someone else, I felt like a piece of me died." — The trapped employee."
The goal of this book is to build the brain of an entrepreneur, one that can build meaningful businesses and income streams from nothing.
Dane, the author says, My success did not start because I am unique or talented. It started because I was honest.
Adventure 2: What You Do & Don't Need
The new entrepreneur obsesses about the mechanism. In your business, Instead of concentrating on creating mechanism worth paying for, Dane Maxwell, the author, says, try to produce results for your customers.
Mechanisms could be infinite. Don't create the mechanisms. Hire those out. Outsource. Concentrate on providing results to your customers. Keep the focus on a customer and the result they want.
In a nutshell
Customer — Uses A Mechanism — To Get A Result
First, What you don't need to start a business
Dane says Entrepreneurs are not better or smarter than you. They are risk-averse like as a 9-5 employee.
why you don't need to be a genius or an expert
"If you want to have full freedom, you don't want to be the expert; you want to be the owner."
He gave an example of a person he knows who's name was Carl, who works at Tesla. Go and read yourself.
Using Carl at Tesla example, Dane explained how Carl asked two questions that lead him to his next big SaaS idea.
Key Takeaways
Concentrate on customer results, not on the mechanism. In truth, the customer doesn't care about the mechanism. They want to result.
The only thing you need is to deliver a result. And you can outsource the delivery of the result.
All you need is to generate a result for someone.
Being an expert can often hurt your chances.
Entrepreneurs are not better or smarter than you, and many of them are just as risk-averse as an employee.
You Don't Need 12 Hour Days If you focus on the critical actions, you only need two hours a day to start a business.
Summary
You don't need money, and you don't have to come up with an idea to start your business. You need to concentrate on the customer result. Being an expert, it can hurt your chance of becoming a successful entrepreneur.
You don't have to be an expert anymore. You just need to find painful problems and solve them for others. Think of entrepreneurship more like being a detective and a problem solver.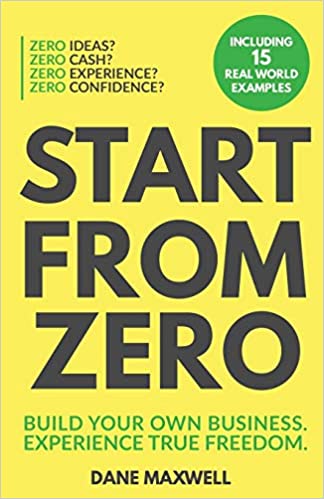 Author(s): Dane Maxwell
Short Blurb: Embark on 7 Learning Adventures to Create a Business From Scratch. This book includes research on …
Read more
Buy from Amazon
---
Part 3 of 25 in the 📖 Start From Zero book series.
Series Start | Start From Zero - Day 2 | Start From Zero - Day 4
---
Amazon Associates Disclaimer! 💬
As an Amazon Associate, I earn from qualifying purchases. I make a tiny commission if you buy using one of the links above at no additional cost to you. I use the money to buy another book 📖 to review or grab a beer 🍺 Super duper thanks 🙌