This post is part of the 📖 The Almanack of Naval Ravikant series.
Today, I am still reading Happiness Habits section of the HAPPINESS chapter from the book, The Almanack of Naval Ravikant: A Guide to Wealth and Happiness written by Author, Jack Butcher.
TL;DR! 💬
Getting rich is not just about luck; happiness is not just a trait we are born with. These aspirations may seem out of reach, but building wealth and being happy are skills we can learn.
So what are these skills, and how do we learn them? What are the principles that should guide our efforts? What does progress really look like?
The Book The Almanack of Naval Ravikant: A Guide to Wealth and Happiness is a collection of Naval's wisdom and experience from the last ten years, shared as a curation of his most insightful interviews and poignant reflections.
Yesterday, I started reading Happiness Is Built by Habits section from the HAPPINESS chapter.
Part II
HAPPINESS
Happiness Habits
I have a series of tricks I use to try and be happier in the moment.
The obvious one is meditation—insight meditation.
Working on it toward a specific purpose, which is to try and understand how your mind works.
Just being very aware in every moment. If you catch yourself judging somebody, you can stop and say, "What's the positive interpretation of this?"
Every time you catch yourself desiring something, say, "Is it so important to me, I'll be unhappy unless this goes my way?" You're going to find with the vast majority of things. It's just not true.
I think dropping caffeine made me happier. It makes me more of a stable person.
I think working out every day made me happier. If you have peace of body, it's easier to have peace of mind.
The more you judge, the more you separate yourself. You'll feel good for an instant because you feel good about yourself, thinking you're better than someone.
Later, you're going to feel lonely. Then, you see negativity everywhere. The world just reflects your own feelings back at you.
Recover time and happiness by minimizing your use of these three smartphone apps: phone, calendar, and alarm clock.
The more secrets you have, the less happy you're going to be.
Were you caught in a funk? Use meditation, music, and exercise to reset your mood. Then choose a new path to commit to emotional energy for the rest of the day.
Hedonic adaptation is more powerful for man-made things (cars, houses, clothes, money) than natural things (food, sex, exercise).
No exceptions—all screen activities linked to less happiness, all non-screen activities linked to more happiness.
A personal metric: how you spent the day doing things out of obligation rather than out of interest?
Politics, academia, and social status are all zero-sum games. Positive-sum games create positive people.
Increase serotonin in the brain without drugs: Sunlight, exercise, positive thinking, and tryptophan.
Changing habits
Pick one thing. Cultivate a desire. Visualize it.
Plan a sustainable path.
Identify needs, triggers, and substitutes.
Tell your friends.
Track meticulously.
Self-discipline is a bridge to a new self-image.
Bake in the new self-image. It's who you are—now.
First, you know it. Then, you understand it. Then, you can explain it. Then, you can feel it. Finally, you are it.
That's it for today. Tomorrow, we will read the FIND HAPPINESS IN ACCEPTANCE section from the HAPPINESS chapter from this great book.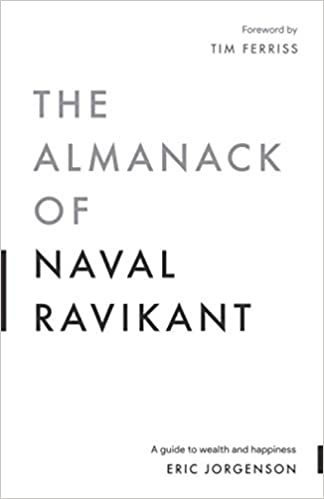 Author(s): Eric Jorgenson
Short Blurb: Getting rich is not just about luck; happiness is not just a trait we are born with. These …
Read more
Buy from Amazon
---
Part 22 of 33 in the 📖 The Almanack of Naval Ravikant book series.
Series Start | The Almanack of Naval Ravikant: A Guide to Wealth and Happiness - Day 21 | The Almanack of Naval Ravikant: A Guide to Wealth and Happiness - Day 23
---
Amazon Associates Disclaimer! 💬
As an Amazon Associate, I earn from qualifying purchases. I make a tiny commission if you buy using one of the links above at no additional cost to you. I use the money to buy another book 📖 to review or grab a beer 🍺 Super duper thanks 🙌