This post is part of the 📖 The Lifestyle Investor series.
Today, I am reading introduction chapter of the brand new book The Lifestyle Investor: The 10 Commandments of Cash Flow Investing for Passive Income and Financial Freedom written by Author, Justin Donald.
TL;DR! 💬
What if there were a simple, proven system to get you off the hamster wheel, create cash flow, and generate real wealth with little risk or complexity?
The Book The Lifestyle Investor is your ticket to:
End trading time for money so you have more of both
Create immediate cash flow while reducing your investment risk
Replace your job with passive cash flow streams that multiply your wealth so you can live life on your terms.
Join the super-achievers experiencing wealth and freedom today!
Find Your Path to Financial Independence
"My dad encouraged us to fail … It changed my mindset at an early age that failure is not the outcome, failure is not trying. Don't be afraid to fail." — Sara Blakely
To become a Lifestyle Investor and develop a successful cash flow investing lifestyle, you decide what that lifestyle looks like for you.
What do you want in life?
Why do you want it?
How you answer these questions prepares you to work through the next three stages toward financial independence.
Financial Independence
There are different stages of financial independence. Each one is important and helps build momentum in creating the life you truly desire.
Stage 1: Cover your bare minimum expenses to live. Stage 2: Maintain your current lifestyle. Stage 3: Live the life you've dreamed about.
How you move through these stages is up to you.
This book is about how to do it as a Lifestyle Investor.
Stages 1 and 2 are the basics for every day, working person's life.
To move into Stage 3, however, you must face and evaluate your mindset.
This mindset places limitations on how you look at investments, the value you give money, and how you allow money to affect your life. In Stage 3, you're living life on your terms based on monthly cash flow, not annual cash flow.
If you change the way you look at things, the things you look at change. —Wayne Dyer
That's it for today. Tomorrow, I will continue to read the chapter and know Cash Flow Investment.
I can't wait to read the next 5 pages. See you later, alligator.
Key Takeaways
Financial independence lets you stop doing things you don't want to do and gives you the freedom to do what you want.

You can design your life to be what you want and live it on your terms.

While money won't solve all your problems, it will solve your financial ones.
Summary
When you move into the stage of living life on your terms, you experience a total paradigm shift. You move from a scarcity mindset to abundance. Instead of grasping and scrimping with money, you realise it is a tool to accomplish your goals.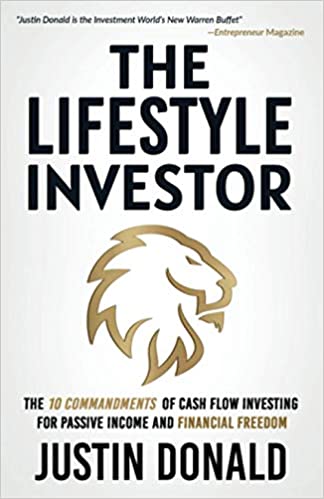 Author(s): Justin Donald
Buy from Amazon
---
Part 1 of 25 in the 📖 The Lifestyle Investor book series.
The Lifestyle Investor: The 10 Commandments of Cash Flow Investing for Passive Income and Financial Freedom - Day 2
---
Amazon Associates Disclaimer! 💬
As an Amazon Associate, I earn from qualifying purchases. I make a tiny commission if you buy using one of the links above at no additional cost to you. I use the money to buy another book 📖 to review or grab a beer 🍺 Super duper thanks 🙌