This post is part of the 📖 The Lifestyle Investor series.
Today, I am reading Myth 5: Most investing experts give good advice section from the Debunking the Most Common Myths about Investing chapter of the book The Lifestyle Investor: The 10 Commandments of Cash Flow Investing for Passive Income and Financial Freedom written by Author, Justin Donald.
TL;DR! 💬
What if there were a simple, proven system to get you off the hamster wheel, create cash flow, and generate real wealth with little risk or complexity?
The Book The Lifestyle Investor is your ticket to:
End trading time for money so you have more of both
Create immediate cash flow while reducing your investment risk
Replace your job with passive cash flow streams that multiply your wealth so you can live life on your terms.
Join the super-achievers experiencing wealth and freedom today!
Yesterday, I read Myth 4: You can't upgrade your lifestyle without sacrificing profit chapter from the book.
Myth 5: Most investing experts give good advice
Did you know that most people in the financial services industry don't operate under fiduciary responsibility?
Fiduciary responsibility means that whoever is investing your money has an obligation to do what's best for you.
Because many financial planners don't have to do what's best for their clients, only something good or that they think is good, they typically do whatever is best for themselves.
Also, the advice you get from these advisors is often biased because they have an incentive to act in a certain way that may not be in your best interest.
They'll then invest in products to inherit extra bonuses, commissions, or kickbacks.
Financial freedom typically does not come in the form of IRAs and qualified plans. — Justin Donald
Experts like Dave Ramsey do a masterful job of helping people get out of debt. However, they don't teach people how to create wealth or have a wealth mindset, and that's probably not their goal. So, if your goal is to create wealth, you may want to avoid a scarcity mindset.
An example of a scarcity mindset looks like this: "Don't buy that latte; that latte worth $5 today could be worth this amount in fifty years if you save that money instead."
Do you want to be able to have that latte? If so, how can you find a way to meet your financial goals and still have that latte?
If you want to be a Lifestyle Investor, don't focus on following the norm because you aren't after normal.
Key Takeaways
The average person doesn't know what they're doing with their finances. Whenever you see what most people are doing, run in the opposite direction because most people don't have it figured out. Why copy a bad example?
Summary
Get a financial coach who is transparent with their earnings and recently done what you want to accomplish.
That's it for today. Tomorrow, we will read Myth 6: You need a lot of money to start cash flow investing.
Buy or Not to Buy:
This chapter alone blew my mind. I think I am with the right company with this book. As I turn each page, I can't wait to see what I will get out of this book. A must-read book if you care about your money and lifestyle.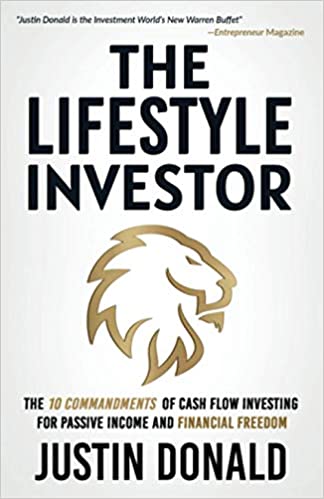 Author(s): Justin Donald
Buy from Amazon
---
Part 10 of 25 in the 📖 The Lifestyle Investor book series.
Series Start | The Lifestyle Investor: The 10 Commandments of Cash Flow Investing for Passive Income and Financial Freedom - Day 9 | The Lifestyle Investor: The 10 Commandments of Cash Flow Investing for Passive Income and Financial Freedom - Day 11
---
Amazon Associates Disclaimer! 💬
As an Amazon Associate, I earn from qualifying purchases. I make a tiny commission if you buy using one of the links above at no additional cost to you. I use the money to buy another book 📖 to review or grab a beer 🍺 Super duper thanks 🙌