This post is part of the 📖 The Lifestyle Investor series.
Today, I am reading Murphy's Laws for the Lifestyle Investor section of the book The Lifestyle Investor: The 10 Commandments of Cash Flow Investing for Passive Income and Financial Freedom written by Author, Justin Donald.
TL;DR! 💬
What if there were a simple, proven system to get you off the hamster wheel, create cash flow, and generate real wealth with little risk or complexity?
The Book The Lifestyle Investor is your ticket to:
End trading time for money so you have more of both
Create immediate cash flow while reducing your investment risk
Replace your job with passive cash flow streams that multiply your wealth so you can live life on your terms.
Join the super-achievers experiencing wealth and freedom today!
Yesterday, I read Myth 6: You need a lot of money to start cash flow investing chapter from the book.
Murphy's Laws for the Lifestyle Investor
I really believe it's better to learn from other people's mistakes as much as possible. —Warren Buffet
Every investor makes mistakes and loses money at some point.
However, if I can prevent you from making one stupid investing mistake—like the one I'm about to share with you—I can save you hundreds of thousands or millions of dollars of your money.
But more importantly, I can save you years of your time. After all, this book is about becoming a Lifestyle Investor.
The Danger of Ignoring the Laws:
I'm going to tell you here one of the greatest investing mistakes I've ever made to prevent you from falling into the same space.
Murphy's Laws for the Lifestyle Investor 💬
It is neither practical nor ethical to reproduce all of Murphy's Laws for the
Lifestyle Investor
here. Please consider buying your copy as this propels you towards the change your life once for all.
The goal is to give you the guidance and support you need so you don't make stupid decisions that cost you money, and so you can protect yourself using the strategies and commandment stack to reduce your risk and make a good return.
If you've lost money in the past, it's not your fault—you didn't have the right guide with the appropriate toolbox to help you reach financial freedom.
That's it for today. Tomorrow, we will read Part Two: The Commandments
Buy or Not to Buy:
This chapter alone blew my mind. I think I am with the right company with this book. As I turn each page, I can't wait to see what I will get out of this book. A must-read book if you care about your money and lifestyle.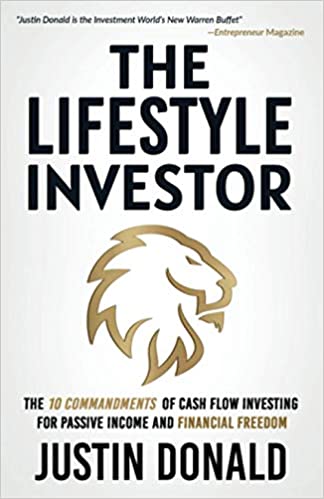 Author(s): Justin Donald
Buy from Amazon
---
Part 12 of 25 in the 📖 The Lifestyle Investor book series.
Series Start | The Lifestyle Investor: The 10 Commandments of Cash Flow Investing for Passive Income and Financial Freedom - Day 11 | The Lifestyle Investor: The 10 Commandments of Cash Flow Investing for Passive Income and Financial Freedom - Day 13
---
Amazon Associates Disclaimer! 💬
As an Amazon Associate, I earn from qualifying purchases. I make a tiny commission if you buy using one of the links above at no additional cost to you. I use the money to buy another book 📖 to review or grab a beer 🍺 Super duper thanks 🙌