This post is part of the 📖 The Lifestyle Investor series.
Today, I am still reading Commandment 1: Lifestyle First section of the book The Lifestyle Investor: The 10 Commandments of Cash Flow Investing for Passive Income and Financial Freedom written by Author, Justin Donald.
TL;DR! 💬
What if there were a simple, proven system to get you off the hamster wheel, create cash flow, and generate real wealth with little risk or complexity?
The Book The Lifestyle Investor is your ticket to:
End trading time for money so you have more of both
Create immediate cash flow while reducing your investment risk
Replace your job with passive cash flow streams that multiply your wealth so you can live life on your terms.
Join the super-achievers experiencing wealth and freedom today!
Yesterday, I started to read Commandment 1: Lifestyle First section from the book.
The Commandments
Commandment 1: Lifestyle First
Adopt the Mindset
The Lifestyle Investor mindset includes believing in and acting on the discipline that each investment must truly represent passive income in which your earnings don't depend on the time you spend working.
Adopting this discipline means your income becomes fully independent of you and happens whether you're asleep or on vacation.
Wealth Optimization
First of all, I don't look at wealth as only money. Money is one component of wealth. A healthy physical body, emotional state, and spiritual strength are all parts of wealth. So are relationships and purpose.
Therefore, when I look at wealth, I want to optimize every component of it.
Being in a good place financially, which is a big component of wealth, buys your time back to do other things.
You can make sure you're mentally and physically strong, intellectually growing, and stimulated.
Commandment 1 is "Lifestyle First."
It is important to me that all my investments enhance my lifestyle in some way. Not only do I want to have strong cash flow from most of my investments, but it is also important that my investments don't require much, if any, time.
This commandment enables me to earn income that is independent of my time. To follow this commandment, I look for investments such as hard money loans (and variations of hard money loans, including lending funds and highly collateralized business loans) that give me more freedom of time without sacrificing a high return.
A hard money loan is just one of many investments that satisfy "Lifestyle First."
That's it for today. Tomorrow, we will continue read the Commandment 2: Reduce the Risk
Buy or Not to Buy:
This chapter alone blew my mind. I think I am with the right company with this book. As I turn each page, I can't wait to see what I will get out of this book. A must-read book if you care about your money and lifestyle.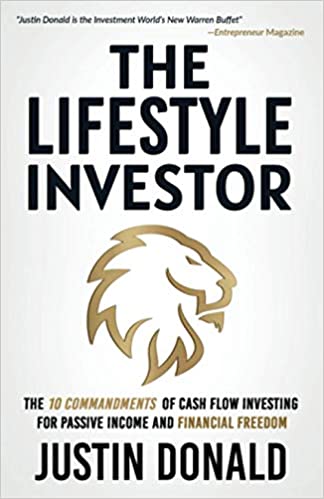 Author(s): Justin Donald
Buy from Amazon
---
Part 14 of 25 in the 📖 The Lifestyle Investor book series.
Series Start | The Lifestyle Investor: The 10 Commandments of Cash Flow Investing for Passive Income and Financial Freedom - Day 13 | The Lifestyle Investor: The 10 Commandments of Cash Flow Investing for Passive Income and Financial Freedom - Day 15
---
Amazon Associates Disclaimer! 💬
As an Amazon Associate, I earn from qualifying purchases. I make a tiny commission if you buy using one of the links above at no additional cost to you. I use the money to buy another book 📖 to review or grab a beer 🍺 Super duper thanks 🙌