This post is part of the 📖 The Lifestyle Investor series.
Today, I am still reading Commandment 2: Reduce the Risk section of the book The Lifestyle Investor: The 10 Commandments of Cash Flow Investing for Passive Income and Financial Freedom written by Author, Justin Donald.
TL;DR! 💬
What if there were a simple, proven system to get you off the hamster wheel, create cash flow, and generate real wealth with little risk or complexity?
The Book The Lifestyle Investor is your ticket to:
End trading time for money so you have more of both
Create immediate cash flow while reducing your investment risk
Replace your job with passive cash flow streams that multiply your wealth so you can live life on your terms.
Join the super-achievers experiencing wealth and freedom today!
Yesterday, I started to read Commandment 1: Lifestyle First section from the book.
The Commandments
Commandment 2: Reduce the Risk
Commandment 2: Reduce the Risk Rule No.1: Never lose money
Rule No.2: Never forget Rule No.1. ― Warren Buffett
When you invest and know how to negotiate using my Strategy Stack, a way of combining multiple non-obvious approaches to earn an even greater return with low risk, you'll discover opportunities to win in a way that you come out cash flow positive, even if part of your investment fails.
One goal of reducing risk is to have your principal investment and any potential downside associated with it protected from loss.
One of the facts about investing is that there's no such thing as a sure thing. Eventually, you're going to lose money. However, when you apply the principles and commandments of being a Lifestyle Investor and understand how to stack the strategies, you'll dramatically decrease risk and your downside.
Let's begin with a list of strategies to reduce risk.
Employ Different Risk Strategies
Good investments are not that difficult to negotiate once you're educated. You can't just hope for the best results. You need to do enough due diligence to feel comfortable with most investments out there, and then you need to structure your investments properly.
Key Takeaways
If you lose money, you have to work twice as hard to replace it. Plus, you have the lost opportunity cost of what that money could have been earning.

If you are the borrower rather than the lender, use non-recourse debt so that in the event of a default, no one can come after any of your assets except the asset associated with the default.

Having non-correlated investments in your portfolio is important so that you have defensive positions that do well even if the stock market or your other investments go down.
Recap of Commandments:
Commandment 1: Lifestyle First
Commandment 2: Reduce the Risk
That's it for today. Tomorrow, we will continue read the Commandment 3: Find Invisible Deals
Buy or Not to Buy:
This chapter alone blew my mind. I think I am with the right company with this book. As I turn each page, I can't wait to see what I will get out of this book. A must-read book if you care about your money and lifestyle.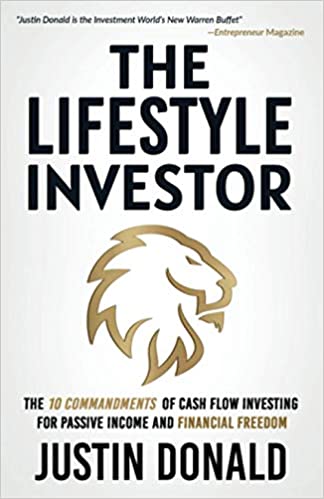 Author(s): Justin Donald
Buy from Amazon
---
Part 15 of 25 in the 📖 The Lifestyle Investor book series.
Series Start | The Lifestyle Investor: The 10 Commandments of Cash Flow Investing for Passive Income and Financial Freedom - Day 14 | The Lifestyle Investor: The 10 Commandments of Cash Flow Investing for Passive Income and Financial Freedom - Day 16
---
Amazon Associates Disclaimer! 💬
As an Amazon Associate, I earn from qualifying purchases. I make a tiny commission if you buy using one of the links above at no additional cost to you. I use the money to buy another book 📖 to review or grab a beer 🍺 Super duper thanks 🙌