This post is part of the 📖 The Lifestyle Investor series.
Today, I am reading Commandment 3: Find Invisible Deals section of the book The Lifestyle Investor: The 10 Commandments of Cash Flow Investing for Passive Income and Financial Freedom written by Author, Justin Donald.
TL;DR! 💬
What if there were a simple, proven system to get you off the hamster wheel, create cash flow, and generate real wealth with little risk or complexity?
The Book The Lifestyle Investor is your ticket to:
End trading time for money so you have more of both
Create immediate cash flow while reducing your investment risk
Replace your job with passive cash flow streams that multiply your wealth so you can live life on your terms.
Join the super-achievers experiencing wealth and freedom today!
Yesterday, I started to read Commandment 2: Reduce the Risk section from the book.
Commandment 3: Find Invisible Deals
The sky is filled with stars, invisible by day. —Henry Wadsworth Longfellow
It seems like everyone is looking for a sure thing in an investment, a leg up, a way to find free money—usually through a stock tip or an insider tip that's hopefully legal.
But it's absolutely the wrong way to think when you're looking for an invisible deal.
The best way to find an invisible deal, instead, is to find a distressed business that's unprofitable because it hasn't been able to get rid of dead weight, baggage, or a part of the business that's obsolete.
That invisible deal is only invisible to insiders who've been looking at the business the same way (or the wrong way) for too long.
Two Guiding Principles of Invisible Deals
Pay attention to emerging markets or unseen opportunities outside the mainstream.
Pay attention to what's going on with trends in the economy: what's strong and what's not.
Recap of Commandments:
Commandment 1: Lifestyle First
Commandment 2: Reduce the Risk
Commandment 3: Find Invisible Deals
That's it for today. Tomorrow, we will continue read the Commandment 4: Get the Principal Back Quickly
Buy or Not to Buy:
This chapter alone blew my mind. I think I am with the right company with this book. As I turn each page, I can't wait to see what I will get out of this book. A must-read book if you care about your money and lifestyle.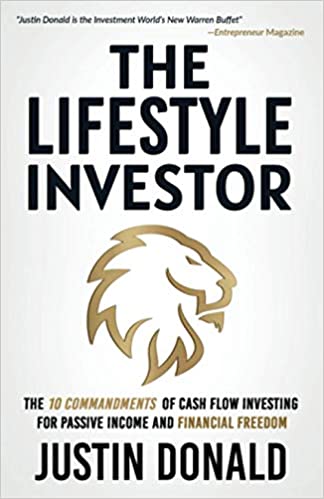 Author(s): Justin Donald
Buy from Amazon
---
Part 16 of 25 in the 📖 The Lifestyle Investor book series.
Series Start | The Lifestyle Investor: The 10 Commandments of Cash Flow Investing for Passive Income and Financial Freedom - Day 15 | The Lifestyle Investor: The 10 Commandments of Cash Flow Investing for Passive Income and Financial Freedom - Day 17
---
Amazon Associates Disclaimer! 💬
As an Amazon Associate, I earn from qualifying purchases. I make a tiny commission if you buy using one of the links above at no additional cost to you. I use the money to buy another book 📖 to review or grab a beer 🍺 Super duper thanks 🙌