This post is part of the 📖 The Lifestyle Investor series.
Today, I am reading Commandment 5: Create Cash Flow Immediately section of the book The Lifestyle Investor: The 10 Commandments of Cash Flow Investing for Passive Income and Financial Freedom written by Author, Justin Donald.
TL;DR! 💬
What if there were a simple, proven system to get you off the hamster wheel, create cash flow, and generate real wealth with little risk or complexity?
The Book The Lifestyle Investor is your ticket to:
End trading time for money so you have more of both
Create immediate cash flow while reducing your investment risk
Replace your job with passive cash flow streams that multiply your wealth so you can live life on your terms.
Join the super-achievers experiencing wealth and freedom today!
Yesterday, I read Commandment 4: Get the Principal Back Quickly section from the book.
Commandment 5: Create Cash Flow Immediately
I'm a cash flow guy. If it doesn't make me money today, forget about it. —Robert Kiyosaki
An interesting fact to keep in mind on your journey is that earned income is the highest taxed income in the United States (and most other countries). In other words, the income you earn from your job or your business is taxed more than any other income you earn.
Passive income, on the other hand, is one of the lowest taxed incomes.
The 1031 Exchange Advantage
I have more good news about real estate investing. There is a way to reinvest the profits into more real estate to avoid owing a long-term capital gains tax: It's a financial tool called a 1031 exchange you can use to your advantage.
Key Takeaways
Do you know that the IRS has a "passive investor" designation that exists if you don't have any earned income and all your income is derived from investments? Passive investors actually pay the lowest percentage of taxes legally.
Recap of Commandments:
Commandment 1: Lifestyle First
Commandment 2: Reduce the Risk
Commandment 3: Find Invisible Deals
Commandment 4: Get the Principal Back Quickly
Commandment 5: Create Cash Flow Immediately
That's it for today. Tomorrow, we will read the Commandment 6: Find an Income Amplifier
Buy or Not to Buy:
This book blew my mind. I think I am with the right company with this book. As I turn each page, I can't wait to see what I will get out of this book. A must-read book if you care about your money and lifestyle.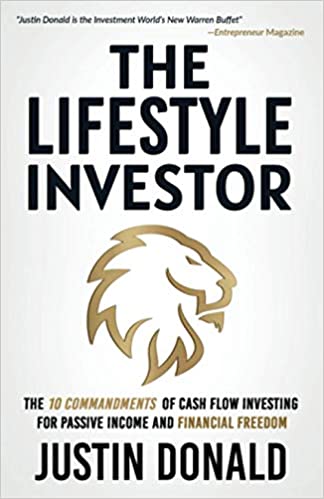 Author(s): Justin Donald
Buy from Amazon
---
Part 18 of 25 in the 📖 The Lifestyle Investor book series.
Series Start | The Lifestyle Investor: The 10 Commandments of Cash Flow Investing for Passive Income and Financial Freedom - Day 17 | The Lifestyle Investor: The 10 Commandments of Cash Flow Investing for Passive Income and Financial Freedom - Day 19
---
Amazon Associates Disclaimer! 💬
As an Amazon Associate, I earn from qualifying purchases. I make a tiny commission if you buy using one of the links above at no additional cost to you. I use the money to buy another book 📖 to review or grab a beer 🍺 Super duper thanks 🙌