This post is part of the 📖 The Lifestyle Investor series.
Today, I am reading Commandment 6: Find an Income Amplifier section of the book The Lifestyle Investor: The 10 Commandments of Cash Flow Investing for Passive Income and Financial Freedom written by Author, Justin Donald.
TL;DR! 💬
What if there were a simple, proven system to get you off the hamster wheel, create cash flow, and generate real wealth with little risk or complexity?
The Book The Lifestyle Investor is your ticket to:
End trading time for money so you have more of both
Create immediate cash flow while reducing your investment risk
Replace your job with passive cash flow streams that multiply your wealth so you can live life on your terms.
Join the super-achievers experiencing wealth and freedom today!
Yesterday, I read Commandment 5: Create Cash Flow Immediately section from the book.
Commandment 6: Find an Income Amplifier
Stay committed to your decisions but stay flexible in your approach. —Tony Robbins
In this chapter, the author introduces us to the concept of income amplifiers and what multiple income amplifiers can do for an investor when you stack them.
An income amplifier is any mechanic or negotiated term that helps improve an investment return. Various ways are out there to structure these deal terms, and the more income amplifiers you can get, the better the investment return should be.
Investment Income Amplifiers
A variety of investment income amplifiers are available but rarely used by the typical investor.
Here is a list of the most common income amplifiers.
Negotiating preferred terms — terms that improve the economics of the investment.
Sidecar agreements — an addendum or agreement with pre-negotiated preferred terms
Co-investment opportunity — an opportunity to invest in a specific deal outside of a fund but alongside the fund managers.
Equity kickers — free equity given as an incentive to make an investment even better.
Warrants — an option to buy equity in the future at a predetermined price.
Revenue shares — a percentage of top-line revenue paid to an investor, typically with monthly distributions.
Liquidation preference — a clause in a contract that dictates the payout order of proceeds upon the sale of a company or other corporate liquidation.
Advisory shares — business advisors will often exchange their involvement within a company for compensation with common stock options, leading to equity in the company.
Debt investment — Investing in the form of a loan rather than straight equity.
Accelerated distribution schedule — Investing in the form of straight equity rather than a loan but with a faster repayment schedule.
Profits interest — This amplifier is an equity right based on a company's future value. It can often be better than equity from a tax standpoint because it doesn't incur taxes during the holding period.
Recap of Commandments:
Commandment 1: Lifestyle First
Commandment 2: Reduce the Risk
Commandment 3: Find Invisible Deals
Commandment 4: Get the Principal Back Quickly
Commandment 5: Create Cash Flow Immediately
Commandment 6: Find an Income Amplifier
That's it for today. Tomorrow, we will read the Commandment 7: Plus the Deal
Buy or Not to Buy:
This book blew my mind. I think I am with the right company with this book. As I turn each page, I can't wait to see what I will get out of this book. A must-read book if you care about your money and lifestyle.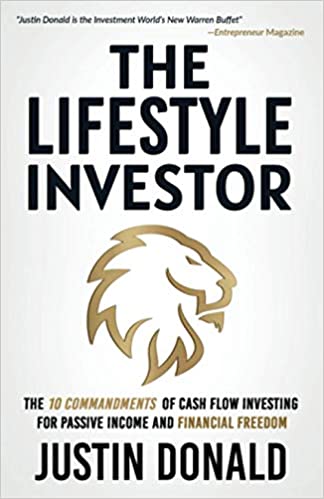 Author(s): Justin Donald
Buy from Amazon
---
Part 19 of 25 in the 📖 The Lifestyle Investor book series.
Series Start | The Lifestyle Investor: The 10 Commandments of Cash Flow Investing for Passive Income and Financial Freedom - Day 18 | The Lifestyle Investor: The 10 Commandments of Cash Flow Investing for Passive Income and Financial Freedom - Day 20
---
Amazon Associates Disclaimer! 💬
As an Amazon Associate, I earn from qualifying purchases. I make a tiny commission if you buy using one of the links above at no additional cost to you. I use the money to buy another book 📖 to review or grab a beer 🍺 Super duper thanks 🙌