This post is part of the 📖 The Lifestyle Investor series.
Today, I am still reading the introduction chapter of the brand new book The Lifestyle Investor: The 10 Commandments of Cash Flow Investing for Passive Income and Financial Freedom written by Author, Justin Donald.
TL;DR! 💬
What if there were a simple, proven system to get you off the hamster wheel, create cash flow, and generate real wealth with little risk or complexity?
The Book The Lifestyle Investor is your ticket to:
End trading time for money so you have more of both
Create immediate cash flow while reducing your investment risk
Replace your job with passive cash flow streams that multiply your wealth so you can live life on your terms.
Join the super-achievers experiencing wealth and freedom today!
Yesterday, I started a brand new book The Lifestyle Investor and left the middle of the first chapter Find Your Path to Financial Independence.
Cash Flow Investment
Cash Flow Investment means some cash comes in regularly — whether monthly, quarterly, or some other time frame.
The goal is to have it flow in a way that you can live on it.
The author's goal is cash flow within the first month. For some investments, that goal isn't realistic. The first distribution might not be for a quarter or longer. But for new investors, it's optimal to invest in a way that provides some cash flow immediately.
The author says, his end goal for each of his investments depends on the specifics of the deal and how collateralized the investment is— meaning how secure and safe the principal investment is.
However, He says, "I like to get my principal back as quickly as possible because often my equity position would remain the same, even after my initial principal has been repaid. I want that principal back to reinvest in other deals."
"For me, the ideal scenario is that I get the principal back in one to two years." — Donald, Justin
Real Estate Investment
Location and structure are important when investing in real estate. Focusing on good location can reduce risk.
For example, you don't want to be an investor in a town with only one major employer.
Invest in large cities with large populations and strong economic growth. Consider a couple of key indicators that typically lead to having a strong occupancy, such as a market with a wide array of large employers, strong healthcare providers, and several good educational programs and universities.
Key Takeaways
Cash Flow Investment goal is cash comes to you within the first month.

Also, you want to invest in assets where principal comes back quickly, and you maintain your same equity position.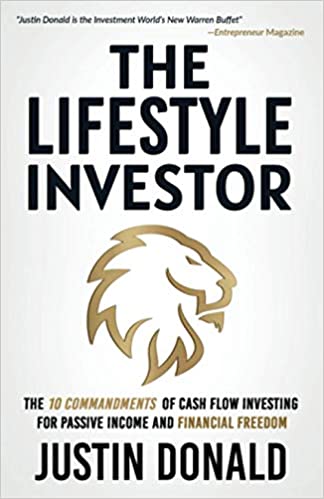 Author(s): Justin Donald
Buy from Amazon
---
Part 2 of 25 in the 📖 The Lifestyle Investor book series.
The Lifestyle Investor: The 10 Commandments of Cash Flow Investing for Passive Income and Financial Freedom - Day 1 | The Lifestyle Investor: The 10 Commandments of Cash Flow Investing for Passive Income and Financial Freedom - Day 3
---
Amazon Associates Disclaimer! 💬
As an Amazon Associate, I earn from qualifying purchases. I make a tiny commission if you buy using one of the links above at no additional cost to you. I use the money to buy another book 📖 to review or grab a beer 🍺 Super duper thanks 🙌