This post is part of the 📖 The Lifestyle Investor series.
Today, I am reading Commandment 7: Plus the Deal section of the book The Lifestyle Investor: The 10 Commandments of Cash Flow Investing for Passive Income and Financial Freedom written by Author, Justin Donald.
TL;DR! 💬
What if there were a simple, proven system to get you off the hamster wheel, create cash flow, and generate real wealth with little risk or complexity?
The Book The Lifestyle Investor is your ticket to:
End trading time for money so you have more of both
Create immediate cash flow while reducing your investment risk
Replace your job with passive cash flow streams that multiply your wealth so you can live life on your terms.
Join the super-achievers experiencing wealth and freedom today!
Yesterday, I read Commandment 6: Find an Income Amplifier section from the book.
Commandment 7: Plus the Deal
You can't put a limit on anything. The more you dream, the farther you get. — Michael Phelps
Now, I'm going to show you how to finance a deal and the bonuses with extremely inexpensive and safe money.
In the world of marketing, this strategy is called "selling money at a discount."
Technically you can have a great investment without having any income amplifiers, but I get at least one (and often multiple income amplifiers) on most of my investments.
The Myth of a Done Deal
There is a myth that once you've negotiated a deal, it's set in place. The bottom line is that the deal is not done until the contract is signed. Until that happens, you still have room to improve the overall investment terms.
Any time I see an opportunity, I like to take advantage of it.
If I see that a company can make more concessions or haven't at least attempted to ask for something I didn't think of in my first round of negotiations, I've got no qualms about asking. They can always say no.
A Two-For-One Deal
I'm going to give you a two-for-one deal with the added benefit of having no risk.
Here's how it works.
I use a specially designed whole-life insurance policy (much different than off-the-shelf policies) to finance my investments. I operate as a bank, but with much better terms, as I discussed in the previous chapter. I use this same bank replacement strategy, taking loans against my whole-life policy, to earn multiple returns on the same money.
The life insurance company that you want is one that uses a non-direct recognition dividend structure. What that term means is that the company will pay you the same dividend regardless of whether you have a loan against your policy or not.
People, in general, only think about life insurance for its death benefit. They pay money, die, and give their beneficiaries some income. An appropriately crafted whole-life policy, however, can offer you many living benefits you can utilize.
The truth is life insurance is the single greatest asset protection structure that exists. People may think trusts are, but if you look at all the case law, it is evident that life insurance is the single greatest way to protect your assets from creditors.
Key Takeaways
Constantly negotiate a deal until you feel comfortable with the terms and feel like your risk has been properly minimized or mitigated.
Summary
Look for investments that allow tax-free growth. This is the best type of growth that exists. These vehicles enable your money to compound faster than any other vehicle. Nothing interrupts the compounding, so these returns have the strongest velocity.
Recap of Commandments:
Commandment 1: Lifestyle First
Commandment 2: Reduce the Risk
Commandment 3: Find Invisible Deals
Commandment 4: Get the Principal Back Quickly
Commandment 5: Create Cash Flow Immediately
Commandment 6: Find an Income Amplifier
Commandment 7: Plus the Deal
That's it for today. Tomorrow, we will read the Commandment 8: Cut Out the Fat
Buy or Not to Buy:
This book blew my mind. I think I am with the right company with this book. As I turn each page, I can't wait to see what I will get out of this book. A must-read book if you care about your money and lifestyle.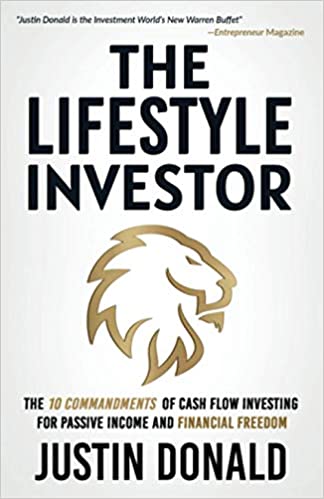 Author(s): Justin Donald
Buy from Amazon
---
Part 20 of 25 in the 📖 The Lifestyle Investor book series.
Series Start | The Lifestyle Investor: The 10 Commandments of Cash Flow Investing for Passive Income and Financial Freedom - Day 19 | The Lifestyle Investor: The 10 Commandments of Cash Flow Investing for Passive Income and Financial Freedom - Day 21
---
Amazon Associates Disclaimer! 💬
As an Amazon Associate, I earn from qualifying purchases. I make a tiny commission if you buy using one of the links above at no additional cost to you. I use the money to buy another book 📖 to review or grab a beer 🍺 Super duper thanks 🙌