This post is part of the 📖 The Lifestyle Investor series.
Today, I am reading Commandment 8: Cut Out the Fat section of the book The Lifestyle Investor: The 10 Commandments of Cash Flow Investing for Passive Income and Financial Freedom written by Author, Justin Donald.
TL;DR! 💬
What if there were a simple, proven system to get you off the hamster wheel, create cash flow, and generate real wealth with little risk or complexity?
The Book The Lifestyle Investor is your ticket to:
End trading time for money so you have more of both
Create immediate cash flow while reducing your investment risk
Replace your job with passive cash flow streams that multiply your wealth so you can live life on your terms.
Join the super-achievers experiencing wealth and freedom today!
Yesterday, I read Commandment 7: Plus the Deal section from the book.
Commandment 8: Cut Out the Fat
Beware of little expenses; a small leak will sink a great ship. —Benjamin Franklin
The Relationship Resource
Here are a few bullet points on the resources you can use in making great deals when you have the money and wish to preserve your time.
Great brokers will bring deals you don't know about and introduce you to a network you don't have access to, which will save you decades of time.
Great financial advisors and insurance professionals can introduce you to financial products you've never thought of or heard about because they're obscure.
Great bankers and financial institutions will introduce you to financial vehicles and instruments that are equally obscure and inaccessible without their connections.
When you find these resources, you add the highest quality, precision tools of all to your investment toolbox—relationships.
When combined with your other tools, they can give you access to big deals, more leverage, better terms, and ideas and concepts that you would never learn anywhere else.
Investing in the Right Advisors
Look for amplifiers or partners in business, not ones where the cost is greater than the value.
The fastest way to make money is never to spend it unnecessarily in the first place.
Not all financial advisors, brokers, lenders, and insurance salespeople are created equal.
Use each of these tools to unlock the best deals and avoid the "fat."
Find the Fat:
Do They Win When You Lose?
Brokers and financial investments have hidden fees; and many mutual funds, 401(k) plans, and insurance policies are loaded with excessive fees, fine print, and exceptions that leave you holding the bag.
You must understand how these professionals get paid. Opaque deals never work in your favour.
Do They Have Skin in the Game?
Do They Practice What They Preach?
Where Can You Save Time or Money?
key Takeaways
Costco, Sam's Club, and Walmart all figured out how to cut out the middlemen, keep more profit, generate more volume, and give their customers more products for less money.

Amazon figured out how to cut out the middlemen and get their products into your home in under a day.
Recap of Commandments:
Commandment 1: Lifestyle First
Commandment 2: Reduce the Risk
Commandment 3: Find Invisible Deals
Commandment 4: Get the Principal Back Quickly
Commandment 5: Create Cash Flow Immediately
Commandment 6: Find an Income Amplifier
Commandment 7: Plus the Deal
Commandment 8: Cut Out the Fat
That's it for today. Tomorrow, we will read the Commandment 9: Use Leverage to Your Advantage
Buy or Not to Buy:
This book blew my mind. I think I am with the right company with this book. As I turn each page, I can't wait to see what I will get out of this book. A must-read book if you care about your money and lifestyle.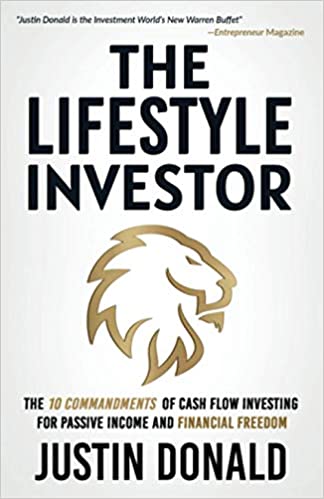 Author(s): Justin Donald
Buy from Amazon
---
Part 21 of 25 in the 📖 The Lifestyle Investor book series.
Series Start | The Lifestyle Investor: The 10 Commandments of Cash Flow Investing for Passive Income and Financial Freedom - Day 20 | The Lifestyle Investor: The 10 Commandments of Cash Flow Investing for Passive Income and Financial Freedom - Day 22
---
Amazon Associates Disclaimer! 💬
As an Amazon Associate, I earn from qualifying purchases. I make a tiny commission if you buy using one of the links above at no additional cost to you. I use the money to buy another book 📖 to review or grab a beer 🍺 Super duper thanks 🙌