This post is part of the 📖 The Lifestyle Investor series.
Today, I am reading Commandment 9: Use Leverage to Your Advantage section of the book The Lifestyle Investor: The 10 Commandments of Cash Flow Investing for Passive Income and Financial Freedom written by Author, Justin Donald.
TL;DR! 💬
What if there were a simple, proven system to get you off the hamster wheel, create cash flow, and generate real wealth with little risk or complexity?
The Book The Lifestyle Investor is your ticket to:
End trading time for money so you have more of both
Create immediate cash flow while reducing your investment risk
Replace your job with passive cash flow streams that multiply your wealth so you can live life on your terms.
Join the super-achievers experiencing wealth and freedom today!
Yesterday, I read Commandment 8: Cut Out the Fat section from the book.
Commandment 9: Use Leverage to Your Advantage
Success is 80% mindset and 20% skill. — Tony Robbins
I hear people say they don't have the money to invest in real estate. That's a total myth. You don't need to have the money. I've learned that when you have a good deal, the money shows up from various sources.
I like using banks as a source of funds for my investments, but only when they benefit me with favourable terms. When they don't, I cut them out of my deal.
Lending Options
The first two loans are direct lending options, which means that the loan funding happens directly with the end lender.
Seller finance
This should be your goto direct lending option. It is much faster than traditional lending products, and often you can negotiate the best terms. This loan is non-recourse typically, which means if anything goes wrong, the lender can only take back the specific asset in the contract and cannot come after your other assets. The borrower is not personally responsible for the repayment of the loan. That is very good protection I like to have in place.
Traditional bank loans
I prefer small local banks because you have more negotiating power typically. These banks are looking for loans they can write and often know the local real estate market better than a bigger bank.
The next two loans are secondary market lending options, which means the loans are bought and sold between lenders and investors.
These are non-recourse loans.
Conduit loans
Also known as commercial mortgage-backed security loans. These loans typically have Wall Street investment firms originating them. The loans themselves are eventually bundled and sold in the secondary market to other investors.
These loans have a lower interest rate than traditional bank loans and often offer a longer-term for the note.
Agency loans
One of the government-sponsored agencies issued these loans, such as the Federal National Mortgage Association (Fannie Mae) and Federal Home Loan Mortgage Corporation (Freddie Mac).
These loans are also bundled and sold on the secondary market to other investors.
Recap of Commandments:
Commandment 1: Lifestyle First
Commandment 2: Reduce the Risk
Commandment 3: Find Invisible Deals
Commandment 4: Get the Principal Back Quickly
Commandment 5: Create Cash Flow Immediately
Commandment 6: Find an Income Amplifier
Commandment 7: Plus the Deal
Commandment 8: Cut Out the Fat
Commandment 9: Use Leverage to Your Advantage
That's it for today. Tomorrow, we will read the How to Use Debt to Your Advantage
Buy or Not to Buy:
This book blew my mind. I think I am with the right company with this book. As I turn each page, I can't wait to see what I will get out of this book. A must-read book if you care about your money and lifestyle.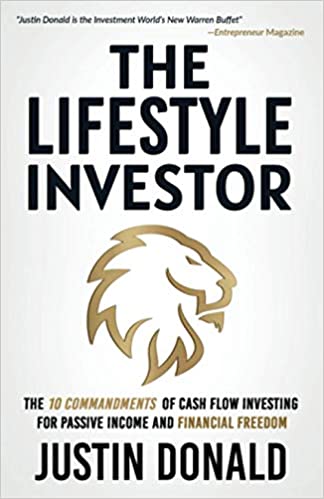 Author(s): Justin Donald
Buy from Amazon
---
Part 22 of 25 in the 📖 The Lifestyle Investor book series.
Series Start | The Lifestyle Investor: The 10 Commandments of Cash Flow Investing for Passive Income and Financial Freedom - Day 21 | The Lifestyle Investor: The 10 Commandments of Cash Flow Investing for Passive Income and Financial Freedom - Day 23
---
Amazon Associates Disclaimer! 💬
As an Amazon Associate, I earn from qualifying purchases. I make a tiny commission if you buy using one of the links above at no additional cost to you. I use the money to buy another book 📖 to review or grab a beer 🍺 Super duper thanks 🙌