This post is part of the 📖 The Lifestyle Investor series.
Today, I am reading How to Use Debt to Your Advantage section from the chapter Commandment 9: Use Leverage to Your Advantage of the book The Lifestyle Investor: The 10 Commandments of Cash Flow Investing for Passive Income and Financial Freedom written by Author, Justin Donald.
TL;DR! 💬
What if there were a simple, proven system to get you off the hamster wheel, create cash flow, and generate real wealth with little risk or complexity?
The Book The Lifestyle Investor is your ticket to:
End trading time for money so you have more of both
Create immediate cash flow while reducing your investment risk
Replace your job with passive cash flow streams that multiply your wealth so you can live life on your terms.
Join the super-achievers experiencing wealth and freedom today!
Yesterday, I read half of the Commandment 9: Use Leverage to Your Advantage section from the book.
Commandment 9: Use Leverage to Your Advantage
How to Use Debt to Your Advantage
Another successful Lifestyle Investor strategy is to buy assets and hold them forever and never sell them. If you need cash, you can borrow against these assets and pledge them as collateral.
You can pledge your real estate, your stock, and your whole-life insurance as collateral, among other assets.
You can do something similar with real estate as well. As your real estate appreciates, you can go to the bank and refinance the real estate and pull out that debt to live on tax-free.
There is no capital gain because you didn't sell anything, and you have no income from it because you are just borrowing against it.
How Lifestyle Investing Works
This next example utilizes several of the strategies from this chapter and is a perfect example of Lifestyle Investing.
Key Takeaways
Most people don't know that their stock can be pledged as collateral. Let's say you own $1,000,000 of Amazon stock. You can currently go to your local bank and get an $800,000 loan at London Inter-Bank Offered Rate (LIBOR) plus 50 basis points (0.5%) for a total of 0.65% interest.

LIBOR is the benchmark interest rate that global banks use to lend to one another. There is no tax treatment on getting one of these loans because they are not taxable.
Summary
You could find an asset and do seller financing with a low down payment or no down payment or use one of the financing options the author has discussed in this chapter.

Perhaps you could find a service provider or partner willing to make improvements on your property for a small percentage of income. Then you could find a property manager who would also work for a small percentage of income. This scenario is a no-cash transaction with no risk.
That's it for today. Tomorrow, we will read the Commandment 10: Every Dollar of Investment Gets a Return section.
Recap of Commandments:
Commandment 1: Lifestyle First
Commandment 2: Reduce the Risk
Commandment 3: Find Invisible Deals
Commandment 4: Get the Principal Back Quickly
Commandment 5: Create Cash Flow Immediately
Commandment 6: Find an Income Amplifier
Commandment 7: Plus the Deal
Commandment 8: Cut Out the Fat
Commandment 9: Use Leverage to Your Advantage
Buy or Not to Buy:
This book blew my mind. I think I am with the right company with this book. As I turn each page, I can't wait to see what I will get out of this book. A must-read book if you care about your money and lifestyle.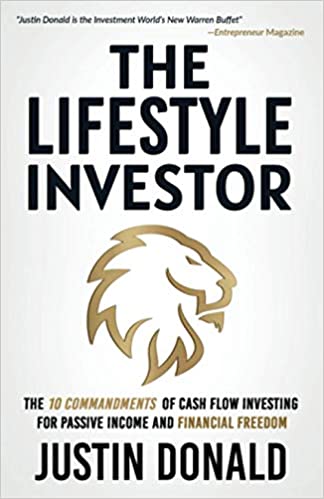 Author(s): Justin Donald
Buy from Amazon
---
Part 23 of 25 in the 📖 The Lifestyle Investor book series.
Series Start | The Lifestyle Investor: The 10 Commandments of Cash Flow Investing for Passive Income and Financial Freedom - Day 22 | The Lifestyle Investor: The 10 Commandments of Cash Flow Investing for Passive Income and Financial Freedom - Day 24
---
Amazon Associates Disclaimer! 💬
As an Amazon Associate, I earn from qualifying purchases. I make a tiny commission if you buy using one of the links above at no additional cost to you. I use the money to buy another book 📖 to review or grab a beer 🍺 Super duper thanks 🙌