This post is part of the 📖 The Lifestyle Investor series.
Today, I am reading Commandment 10: Every Dollar of Investment Gets a Return section from the book The Lifestyle Investor: The 10 Commandments of Cash Flow Investing for Passive Income and Financial Freedom written by Author, Justin Donald.
TL;DR! 💬
What if there were a simple, proven system to get you off the hamster wheel, create cash flow, and generate real wealth with little risk or complexity?
The Book The Lifestyle Investor is your ticket to:
End trading time for money so you have more of both
Create immediate cash flow while reducing your investment risk
Replace your job with passive cash flow streams that multiply your wealth so you can live life on your terms.
Join the super-achievers experiencing wealth and freedom today!
Yesterday, I read the remaining section of the Commandment 9: Use Leverage to Your Advantage from the book.
Commandment 10: Every Dollar of Investment Gets a Return
An investment in knowledge pays the best interest. — Benjamin Franklin
Myths about Knowledge
Some people believe they can't invest because they don't know about investing—another myth. You can learn.
Once you own investments, you're quickly forced to learn about them. I found ownership to be the fastest way to learn.
Ordinary people think that if they're not an expert, they can't do something. That's a total myth too. You can hire experts for everything.
Experienced Advisors
They may think about things entirely differently and offer insight you would never have had on your own.
The author says his advisors also help him pay attention to his blind spots and are much more detail-oriented than he could personally so they ensure small details don't slip through the cracks.
He says, "Besides helping me make a better return on my investments and structure my deals to perform as intended, they also help me not to make poor investments."
A Business Coach
A great business coach can prevent you from making stupid mistakes, such as hiring the wrong people and help you build a better team around you in record time.
You don't have to learn what they know. They can bring you into deals and opportunities that you couldn't find yourself and help you structure deals and think about different ways to negotiate.
Think about it like this — if you could go back in time twenty years and invest in Apple and Google, would you do it?
A couple of thousand dollars would be worth tens of millions (or more) now. A great coach is like going into a time machine.
Key Takeaways
Hire professionals who are the foremost experts at their craft. You want to learn what they know so you can draw upon that knowledge in the future. This approach ensures that I get the highest level of education in working with them.

It makes sense to outsource anything that's outside your core competencies once you find an expert who will teach you what they're doing.
Summary
Imagine if you hired someone to educate you. You would want to know why they made certain decisions because you're not paying for the service; you're paying for the education.

A great coach is like going into a time machine. Nobody can ever foreclose or bankrupt your brain or take your knowledge and experience from you.
That's it for today. Tomorrow, we will read the final chapter Part Three The Call.
Recap of Commandments:
Commandment 1: Lifestyle First
Commandment 2: Reduce the Risk
Commandment 3: Find Invisible Deals
Commandment 4: Get the Principal Back Quickly
Commandment 5: Create Cash Flow Immediately
Commandment 6: Find an Income Amplifier
Commandment 7: Plus the Deal
Commandment 8: Cut Out the Fat
Commandment 9: Use Leverage to Your Advantage
Commandment 10: Every Dollar of Investment Gets a Return
Buy or Not to Buy:
This book blew my mind. I think I am with the right company with this book. As I turn each page, I can't wait to see what I will get out of this book. A must-read book if you care about your money and lifestyle.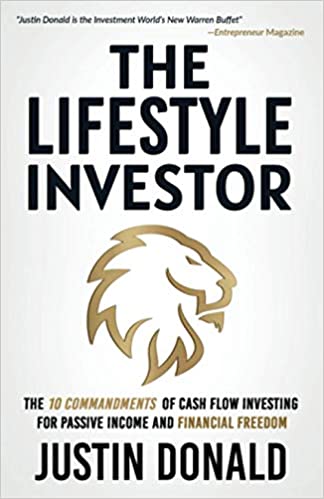 Author(s): Justin Donald
Buy from Amazon
---
Part 24 of 25 in the 📖 The Lifestyle Investor book series.
Series Start | The Lifestyle Investor: The 10 Commandments of Cash Flow Investing for Passive Income and Financial Freedom - Day 23 | The Lifestyle Investor: The 10 Commandments of Cash Flow Investing for Passive Income and Financial Freedom - Day 25
---
Amazon Associates Disclaimer! 💬
As an Amazon Associate, I earn from qualifying purchases. I make a tiny commission if you buy using one of the links above at no additional cost to you. I use the money to buy another book 📖 to review or grab a beer 🍺 Super duper thanks 🙌