This post is part of the 📖 The Lifestyle Investor series.
Today, I am reading Core Principles and Criteria for Lifestyle Investing chapter of the book The Lifestyle Investor: The 10 Commandments of Cash Flow Investing for Passive Income and Financial Freedom written by Author, Justin Donald.
TL;DR! 💬
What if there were a simple, proven system to get you off the hamster wheel, create cash flow, and generate real wealth with little risk or complexity?
The Book The Lifestyle Investor is your ticket to:
End trading time for money so you have more of both
Create immediate cash flow while reducing your investment risk
Replace your job with passive cash flow streams that multiply your wealth so you can live life on your terms.
Join the super-achievers experiencing wealth and freedom today!
Yesterday, I read Cash Flow Investment section from the Find Your Path to Financial Independence chapter.
Core Principles and Criteria for Lifestyle Investing
Four core principles guide every investment.
Principle 1: Mindset
Principle 2: Structure
Principle 3: Filter
Principle 4: Negotiation
Mindset
The best investment you'll ever make is in your mindset and personal growth. The most important investment in your portfolio is your ongoing learning and personal growth.
Your mindset on any given investment guides your choices.
Structure
Do you want to know how to double your return on investment (ROI) with zero risk? Learn how to structure a better deal.
The structure is the relationship between the specific investment terms in an agreement.
Filter
What's the fastest way to determine a great deal or discern something you should run away from as fast as you can? Filters!
Filters are criteria used to sort through and narrow down investment opportunities. Using filters to screen investments saves significant time and creates greater efficiency.
These filters often help you spot invisible deals (more on that later) and avoid overwhelm. The better your filters are, the more time you can spend evaluating high-quality investments.
Negotiation
Negotiation is a core part of an investment strategy. All opportunities are negotiable. Negotiating is not necessarily confrontational or adversarial. So never assume a term sheet is a final word.
That's it for today. Tomorrow, I am going to read a new chapter The 10 Commandments of the Lifestyle Investor™
key Takeaways
Using filters to screen investments saves significant time and creates greater efficiency.
Summary
To be a successful lifestyle investor, you need to have four principles in your arsenal. Those are Mindset, Structure, Filter, and Negotiation.
Author Justin Donald is going to explain about these four core principle criteria in the coming chapters.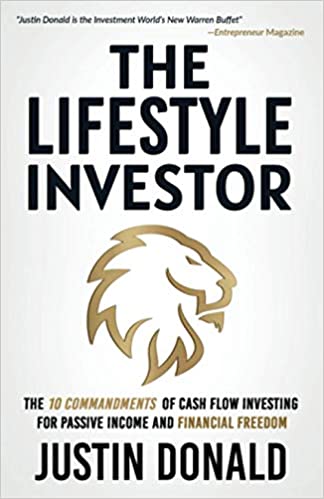 Author(s): Justin Donald
Buy from Amazon
---
Part 3 of 25 in the 📖 The Lifestyle Investor book series.
Series Start | The Lifestyle Investor: The 10 Commandments of Cash Flow Investing for Passive Income and Financial Freedom - Day 2 | The Lifestyle Investor: The 10 Commandments of Cash Flow Investing for Passive Income and Financial Freedom - Day 4
---
Amazon Associates Disclaimer! 💬
As an Amazon Associate, I earn from qualifying purchases. I make a tiny commission if you buy using one of the links above at no additional cost to you. I use the money to buy another book 📖 to review or grab a beer 🍺 Super duper thanks 🙌