This post is part of the 📖 The Lifestyle Investor series.
Today, I am reading The 10 Commandments of the Lifestyle Investor™ chapter of the book The Lifestyle Investor: The 10 Commandments of Cash Flow Investing for Passive Income and Financial Freedom written by Author, Justin Donald.
TL;DR! 💬
What if there were a simple, proven system to get you off the hamster wheel, create cash flow, and generate real wealth with little risk or complexity?
The Book The Lifestyle Investor is your ticket to:
End trading time for money so you have more of both
Create immediate cash flow while reducing your investment risk
Replace your job with passive cash flow streams that multiply your wealth so you can live life on your terms.
Join the super-achievers experiencing wealth and freedom today!
Yesterday, I read Core Principles and Criteria for Lifestyle Investing section from the book.
The 10 Commandments of the Lifestyle Investor™
Commandment 1: Lifestyle First
Commandment 2: Reduce the Risk
Commandment 3: Find Invisible Deals
Commandment 4: Get the Principal Back Quickly
Commandment 5: Create Cash Flow Immediately
Commandment 6: Find an Income Amplifier
Commandment 7: Plus the Deal
Commandment 8: Cut Out the Fat
Commandment 9: Use Leverage to Your Advantage
Commandment 10: Every Dollar of Investment Gets a Return
Your investments are truly passive income rather than a factor of time spent in the business. Passive income means you're earning income while you're sleeping or offline.

Examine deal structures to minimize risk and maximize returns.

Watch emerging markets and unconventional investment opportunities, including new and disruptive technologies or companies in a reinvention phase.

Get the Principal Back Quickly Can you get a return of your principal investment in one to two years? The quicker you get your principal back to invest again, the more your investments compound.

Create Cash Flow Immediately Can you negotiate cash flow monthly or quarterly? The more cash flow you have, the more it can support your lifestyle and eventually be used for additional investments.

Find an Income Amplifier Negotiate preferred terms or sidecar agreements to amplify profit potential.

Plus the Deal Investigate the perks and terms to optimize the deal for lower risk, greater returns, and long-term value.

Eliminate any unnecessary fees, whether they're through middlemen, banks, or other financial institutions.

Non-recourse loans are one strategy to protect investors if an investment underperforms. Sometimes, the benefits of working with a financial institution outweigh their fees.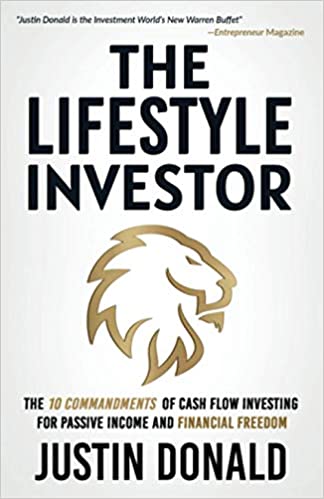 Author(s): Justin Donald
Buy from Amazon
---
Part 4 of 25 in the 📖 The Lifestyle Investor book series.
Series Start | The Lifestyle Investor: The 10 Commandments of Cash Flow Investing for Passive Income and Financial Freedom - Day 3 | The Lifestyle Investor: The 10 Commandments of Cash Flow Investing for Passive Income and Financial Freedom - Day 5
---
Amazon Associates Disclaimer! 💬
As an Amazon Associate, I earn from qualifying purchases. I make a tiny commission if you buy using one of the links above at no additional cost to you. I use the money to buy another book 📖 to review or grab a beer 🍺 Super duper thanks 🙌