This post is part of the 📖 The Lifestyle Investor series.
Today, I am reading Why Lifestyle Investing Is the Answer chapter of the book The Lifestyle Investor: The 10 Commandments of Cash Flow Investing for Passive Income and Financial Freedom written by Author, Justin Donald.
TL;DR! 💬
What if there were a simple, proven system to get you off the hamster wheel, create cash flow, and generate real wealth with little risk or complexity?
The Book The Lifestyle Investor is your ticket to:
End trading time for money so you have more of both
Create immediate cash flow while reducing your investment risk
Replace your job with passive cash flow streams that multiply your wealth so you can live life on your terms.
Join the super-achievers experiencing wealth and freedom today!
Yesterday, I read The 10 Commandments of the Lifestyle Investor™ section from the book.
Why Lifestyle Investing Is the Answer
The goal isn't more money. The goal is living life on your terms. —Will Rogers
Real-life issues and problems come with being an entrepreneur just as they do with being an employee in someone else's business. Unfortunately, many entrepreneurs never make it to a lifestyle of financial freedom or won't make it for a long time.
This book's information will help you make a transition like what I described in my life if you apply it. Chances are, it won't happen overnight. It may take a year, five years, or even ten years; but at some point, you'll be able to step off the proverbial treadmill and create your success—and do so on your terms.
Why not become a professional financial athlete now, while you are young and have years to enjoy a new lifestyle of success?
It's not about accumulating millions of dollars in a nest egg approach. Instead, it's about investing in assets one at a time that produces the amount of passive income you need to cover your lifestyle.
If you break down how much it costs to live right now with your current lifestyle every month, the amount needed to cover those expenses is probably much less than what you think it costs.
That's it for today. Tomorrow, I am going to read Debunking the Most Common Myths about Investing chapter.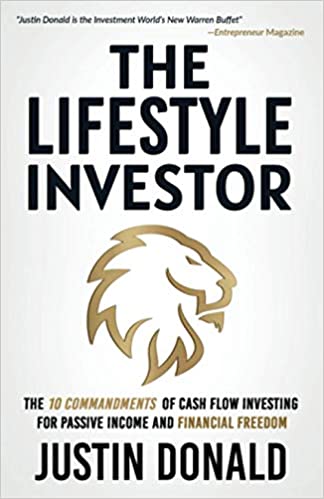 Author(s): Justin Donald
Buy from Amazon
---
Part 5 of 25 in the 📖 The Lifestyle Investor book series.
Series Start | The Lifestyle Investor: The 10 Commandments of Cash Flow Investing for Passive Income and Financial Freedom - Day 4 | The Lifestyle Investor: The 10 Commandments of Cash Flow Investing for Passive Income and Financial Freedom - Day 6
---
Amazon Associates Disclaimer! 💬
As an Amazon Associate, I earn from qualifying purchases. I make a tiny commission if you buy using one of the links above at no additional cost to you. I use the money to buy another book 📖 to review or grab a beer 🍺 Super duper thanks 🙌