This post is part of the 📖 The Lifestyle Investor series.
Today, I am reading Debunking the Most Common Myths About Investing chapter of the book The Lifestyle Investor: The 10 Commandments of Cash Flow Investing for Passive Income and Financial Freedom written by Author, Justin Donald.
TL;DR! 💬
What if there were a simple, proven system to get you off the hamster wheel, create cash flow, and generate real wealth with little risk or complexity?
The Book The Lifestyle Investor is your ticket to:
End trading time for money so you have more of both
Create immediate cash flow while reducing your investment risk
Replace your job with passive cash flow streams that multiply your wealth so you can live life on your terms.
Join the super-achievers experiencing wealth and freedom today!
Yesterday, I read Why Lifestyle Investing Is the Answer section from the book.
Debunking the Most Common Myths About Investing
Risk comes from not knowing what you're doing. —Warren Buffett
Don't follow the crowd. The majority of people are in debt, not building wealth.
My goal in this book is to show you how to become a Lifestyle Investor, no matter your current financial status.
It's time to address six of the common misconceptions people have about investing.
Myth 1: The best way to become wealthy is by building your 401(k), following traditional investment advice, or investing in the stock market.
Run from anyone who tries to sell you a single product-driven strategy.
Run too from any plan that is average-rate-of-return-driven because the average rate of return doesn't matter.
The average rate of return is a manipulative phrase to make people feel good about not making money and a smokescreen, so people won't realize they're not making as much as they think they are.
What matters is the actual rate of return and actual dollar return because that's real money. — Justin Donald
That's it for today. Tomorrow, we will read Myth 2: You can't spend money freely today and grow your wealth at the same time.
Key Takeaways
Financial planners still make money on your money even when you lose money. According to SPIVA's (S&P Indices Vs Active) 2019 year-end report, in the last fifteen years, the fund managers you pay to manage your investments do a worse job 95% of the time than if you invest in an index fund yourself.

Make indexes your new normal, where you pay the least amount of fees to invest in the stock market.

Social Security is Not Security
Buy or Not to Buy:
This chapter alone blew my mind. I think I am with the right company with this book. As I turn each page, I can't wait to see what I will get out of this book. A must-read book if you care about your money and lifestyle.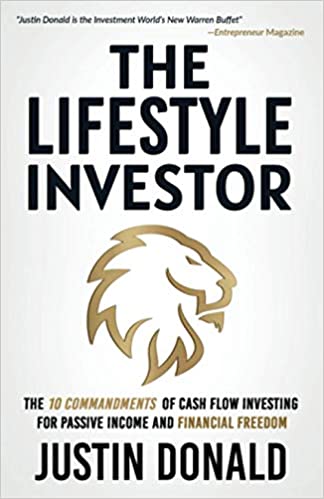 Author(s): Justin Donald
Buy from Amazon
---
Part 6 of 25 in the 📖 The Lifestyle Investor book series.
Series Start | The Lifestyle Investor: The 10 Commandments of Cash Flow Investing for Passive Income and Financial Freedom - Day 5 | The Lifestyle Investor: The 10 Commandments of Cash Flow Investing for Passive Income and Financial Freedom - Day 7
---
Amazon Associates Disclaimer! 💬
As an Amazon Associate, I earn from qualifying purchases. I make a tiny commission if you buy using one of the links above at no additional cost to you. I use the money to buy another book 📖 to review or grab a beer 🍺 Super duper thanks 🙌