This post is part of the 📖 The Lifestyle Investor series.
Today, I am reading Myth 2: You can't spend money freely today and grow your wealth at the same time section from the Debunking the Most Common Myths about Investing chapter of the book The Lifestyle Investor: The 10 Commandments of Cash Flow Investing for Passive Income and Financial Freedom written by Author, Justin Donald.
TL;DR! 💬
What if there were a simple, proven system to get you off the hamster wheel, create cash flow, and generate real wealth with little risk or complexity?
The Book The Lifestyle Investor is your ticket to:
End trading time for money so you have more of both
Create immediate cash flow while reducing your investment risk
Replace your job with passive cash flow streams that multiply your wealth so you can live life on your terms.
Join the super-achievers experiencing wealth and freedom today!
Yesterday, I start reading Debunking the Most Common Myths About Investingchapter from the book.
Myth 2: You can't spend money freely today and grow your wealth at the same time.
Money and wealth typically don't result from a nest egg accumulation approach in which you build a nest egg of millions of dollars, draw from it when you retire, and live a happy life. This strategy relies on endless hope.
The goal is to build up that nest egg, never touch the principal, and live off the interest. However, that goal hinges on the belief that you have investments that will continually generate enough interest to live on—something that can change at any given moment.
Your returns could change, the market could change, and the cost of living will undoubtedly change.
As you start to create your passive income, take the necessary steps to diversify your cash flow across many different asset classes, sectors, and industries.
Should something happen that negatively impacts one of those areas, you won't suffer as much loss because you will not have all your cash flow concentrated in that one area.
This strategy mitigates concentration risk, which is the risk when too many investments are exposed to the same economic forces.
Great questions to ask yourself are:
What gives me the best return with the least amount of risk?

What emerging markets should I consider that didn't exist that long ago?

How can I diversify my investments, even across other cash flowing opportunities?
Key Takeaways
Once you have your necessary lifestyle expenses covered with passive income, you can spend more time figuring out the different investment vehicles you may want to add to your portfolio.
Summary
Focus on passive income first to cover all expenses and diversify that passive income to have multiple income streams, so you aren't reliant upon just one asset for income.
Buy or Not to Buy:
This chapter alone blew my mind. I think I am with the right company with this book. As I turn each page, I can't wait to see what I will get out of this book. A must-read book if you care about your money and lifestyle.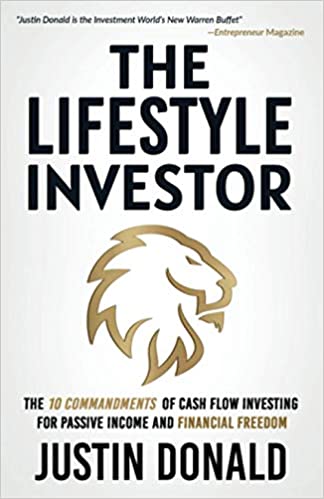 Author(s): Justin Donald
Buy from Amazon
---
Part 7 of 25 in the 📖 The Lifestyle Investor book series.
Series Start | The Lifestyle Investor: The 10 Commandments of Cash Flow Investing for Passive Income and Financial Freedom - Day 6 | The Lifestyle Investor: The 10 Commandments of Cash Flow Investing for Passive Income and Financial Freedom - Day 8
---
Amazon Associates Disclaimer! 💬
As an Amazon Associate, I earn from qualifying purchases. I make a tiny commission if you buy using one of the links above at no additional cost to you. I use the money to buy another book 📖 to review or grab a beer 🍺 Super duper thanks 🙌