This post is part of the 📖 The Lifestyle Investor series.
Today, I am reading Myth 2: You can't spend money freely today and grow your wealth at the same time section from the Debunking the Most Common Myths about Investing chapter of the book The Lifestyle Investor: The 10 Commandments of Cash Flow Investing for Passive Income and Financial Freedom written by Author, Justin Donald.
TL;DR! 💬
What if there were a simple, proven system to get you off the hamster wheel, create cash flow, and generate real wealth with little risk or complexity?
The Book The Lifestyle Investor is your ticket to:
End trading time for money so you have more of both
Create immediate cash flow while reducing your investment risk
Replace your job with passive cash flow streams that multiply your wealth so you can live life on your terms.
Join the super-achievers experiencing wealth and freedom today!
Yesterday, I read Myth 2: You can't spend money freely today and grow your wealth at the same time chapter from the book.
Myth 3: The best investments are tried-and-true choices you've already heard about.
Fifteen years ago, there was no such thing as single-family home rentals as an asset class.
They became an official asset class around twelve years ago and one of the fastest-growing asset classes in the U.S.
The cannabis, CBD, and hemp industry is taking off right now. It is one of the fastest-growing industries in the U.S.
Technology is another market with investment opportunities. They can be hit or miss, but there are always new, innovative, and disruptive developments worth paying attention to.
Financial technology, or Fintech, is blowing up. Software as a service (SaaS) is taking off.
Crowdsourcing and crowdfunding are becoming more popular and mainstream. E-commerce, in general, is revolutionizing the way people shop and conduct business.
The list goes on and on, and that's my point. All these new, booming, and emerging markets have opportunities where most people aren't making the time or don't have the confidence to look.
That's it for today. Tomorrow, we will read Myth 4: You can't upgrade your lifestyle without sacrificing profit.
Buy or Not to Buy:
This chapter alone blew my mind. I think I am with the right company with this book. As I turn each page, I can't wait to see what I will get out of this book. A must-read book if you care about your money and lifestyle.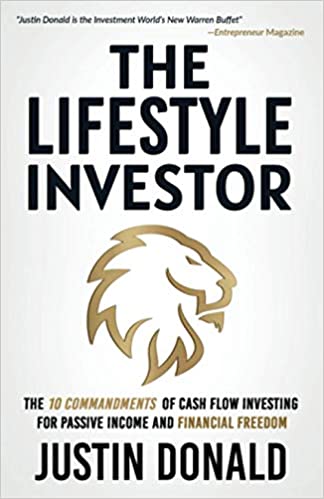 Author(s): Justin Donald
Buy from Amazon
---
Part 8 of 25 in the 📖 The Lifestyle Investor book series.
Series Start | The Lifestyle Investor: The 10 Commandments of Cash Flow Investing for Passive Income and Financial Freedom - Day 7 | The Lifestyle Investor: The 10 Commandments of Cash Flow Investing for Passive Income and Financial Freedom - Day 9
---
Amazon Associates Disclaimer! 💬
As an Amazon Associate, I earn from qualifying purchases. I make a tiny commission if you buy using one of the links above at no additional cost to you. I use the money to buy another book 📖 to review or grab a beer 🍺 Super duper thanks 🙌