This post is part of the 📖 The Lifestyle Investor series.
Today, I am reading Myth 4: You can't upgrade your lifestyle without sacrificing profit. section from the Debunking the Most Common Myths about Investing chapter of the book The Lifestyle Investor: The 10 Commandments of Cash Flow Investing for Passive Income and Financial Freedom written by Author, Justin Donald.
TL;DR! 💬
What if there were a simple, proven system to get you off the hamster wheel, create cash flow, and generate real wealth with little risk or complexity?
The Book The Lifestyle Investor is your ticket to:
End trading time for money so you have more of both
Create immediate cash flow while reducing your investment risk
Replace your job with passive cash flow streams that multiply your wealth so you can live life on your terms.
Join the super-achievers experiencing wealth and freedom today!
Yesterday, I read Myth 3: The best investments are tried-and-true choices you've already heard about. chapter from the book.
Myth 4: You can't upgrade your lifestyle without sacrificing profit.
Lifestyle inflation is a threat to long-term financial freedom. Let me say that again in another way. Nothing is a given. Being a Lifestyle Investor means that while your income increases, your lifestyle doesn't increase linearly.
Your lifestyle doesn't change dramatically until you have enough repeatable investments to sustain your desired lifestyle change.
Remember, you become a Lifestyle Investor more than you live an investor's lifestyle.
For example, if I want to get a new car, I'm methodical in my approach. Instead of spending my money to purchase that car, I know that it's smarter to buy another asset that produces the income to cover the car payments and expenses of owning it before making the car purchase.
Home improvements are also an excellent example of where you can cover your expenses in advance by buying assets that produce income. The extra income allows you to pay for new furniture, home remodelling, or even a bigger or more expensive home.
Another tip: when you have the right tax strategists on your team, vacations can be treated as board meetings as long as you take minutes and follow all the IRS rules to prove what you've done.
You can find out more about these tax strategies by listening to my podcast at LifestyleInvestor.com/podcast.
That's it for today. Tomorrow, we will read Myth 5: Most investing experts give good advice.
Buy or Not to Buy:
This chapter alone blew my mind. I think I am with the right company with this book. As I turn each page, I can't wait to see what I will get out of this book. A must-read book if you care about your money and lifestyle.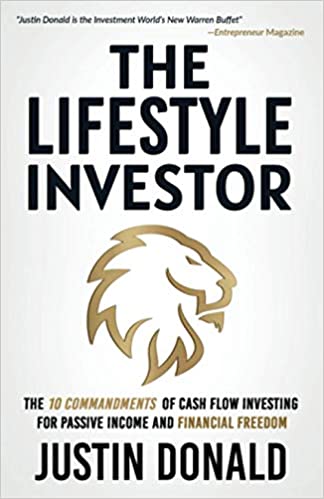 Author(s): Justin Donald
Buy from Amazon
---
Part 9 of 25 in the 📖 The Lifestyle Investor book series.
Series Start | The Lifestyle Investor: The 10 Commandments of Cash Flow Investing for Passive Income and Financial Freedom - Day 8 | The Lifestyle Investor: The 10 Commandments of Cash Flow Investing for Passive Income and Financial Freedom - Day 10
---
Amazon Associates Disclaimer! 💬
As an Amazon Associate, I earn from qualifying purchases. I make a tiny commission if you buy using one of the links above at no additional cost to you. I use the money to buy another book 📖 to review or grab a beer 🍺 Super duper thanks 🙌