This post is part of the 📖 1-Page Marketing Plan series.
Today I am reading a section Create an Irresistible Offer from CRAFTING YOUR MESSAGE chapter of the book The 1-Page Marketing Plan written by Author, serial entrepreneur and rebellious marketer Allan Dib.
Info! 💬
By reading this book
The 1-Page Marketing Plan
, Whether you're just starting out or are an experienced entrepreneur, The 1-Page Marketing Plan is the easiest and fastest way to create a marketing plan that will propel your business growth. It's literally a single page, divided up into nine squares. With it, you'll be able to map out your own sophisticated marketing plan and go from zero to marketing hero.
Yesterday, I read Create Your Elevator Pitch section from the CRAFTING YOUR MESSAGE chapter of the book.
Tomorrow, I am going to read "Copywriting for Sales: You Can't Bore People into Buying" section from the same chapter. Look out for tomorrow's article.
Create an Irresistible Offer
Now you have a message, and you know what your market wants, you need to package it up and present it as an irresistible offer.
Here are the elements:
Value
Language
Reason Why
Value Stacking
Upsells
Payment plan
Guarantee
Scarcity
Allan Dib, the author, explained in detail all the above elements in the book. Without a doubt, the book is the best book I have read on the subject to date.
For example, I will show you what the author wrote about the Language (2nd bullet point). I am super impressed and going to implement in the upcoming project of mine.
Language:
If you're not a member of your target market, you need to learn the language and jargon used within your target market. If you're selling BMX bikes, you need to talk about "endos," "sick wheelies" and "bunny hops," not features, benefits, and specifications. If you're selling golf clubs, you need to talk about "hooks," "slices" and "handicaps".
Target the Pain
Many times, businesses talk about features and benefits rather than speaking to the pain that the customer already has.
Your goal is to be a problem solver and pain reliever and to turn any comparison with your competition into an apples-to-oranges comparison.
Remember, people are much more willing to pay for a cure than for prevention.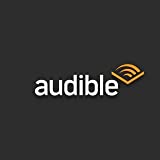 Do you know you can listen to this book on Amazon Audible for FREE?
If you are not into reading like me, then you can listen to this book for FREE on Amazon Audible
Don't Read. Just 🎧
Key Takeaways
You need to think, what is the most valuable thing you could do for your customer? This really is the crux of your offer.

When you have a great offer, you need to justify why you're doing this. People are so used to being shortchanged that when someone makes a strong, value-filled offer. They become sceptical and look for the catch.

Offer a payment plan for the high-ticket items.

Don't hesitate to offer a high margin item as an upsell when the frontend product or service you are selling is low margin.

You need to provide an outrageous guarantee of your product or service. One that totally reverses the risk of doing business with you.

People respond much more to a fear of loss than the prospect of gain means you need to implement a scarcity component in your offer.
Summary
Buy the book and read then create an Irresistible Offer for your target market. Your message should always focus on your customer problems and solutions.
Look for pain points in your industry and become the source of relief.
---
In this groundbreaking new book you'll discover:
How to get new customers, clients or patients and how to make more profit from existing ones.

Why "big business" style marketing could kill your business and strategies that actually work for small and medium-sized businesses.

How to close sales without being pushy, needy, or obnoxious while turning the tables and having prospects begging you to take their money.

A simple step-by-step process for creating your own personalized marketing plan that is literally one page. Simply follow along and fill in each of the nine squares that make up your own 1-Page Marketing Plan.

How to annihilate competitors and make yourself the only logical choice.

How to get amazing results on a small budget using the secrets of direct response marketing.

How to charge high prices for your products and services and have customers actually thank you for it.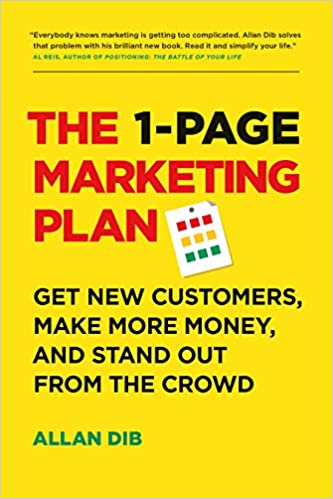 Author(s): Allan Dib
Short Blurb: "To build a successful business, you need to stop doing random acts of marketing and start following …
Read more
Buy from Amazon
---
Part 10 of 36 in the 📖 1-Page Marketing Plan book series.
Series Start | The 1-Page Marketing Plan - Day 9 | The 1-Page Marketing Plan - Day 11
---
Amazon Associates Disclaimer! 💬
As an Amazon Associate, I earn from qualifying purchases. I make a tiny commission if you buy using one of the links above at no additional cost to you. I use the money to buy another book 📖 to review or grab a beer 🍺 Super duper thanks 🙌