This post is part of the 📖 1-Page Marketing Plan series.
Today I am reading a section named SNAIL MAIL from REACHING PROSPECTS WITH ADVERTISING MEDIA chapter of the book The 1-Page Marketing Plan written by Author, serial entrepreneur and rebellious marketer Allan Dib.
Info! 💬
By reading this book
The 1-Page Marketing Plan
, Whether you're just starting out or are an experienced entrepreneur, The 1-Page Marketing Plan is the easiest and fastest way to create a marketing plan that will propel your business growth. It's literally a single page, divided up into nine squares. With it, you'll be able to map out your own sophisticated marketing plan and go from zero to marketing hero.
Yesterday, I read EMAIL MARKETING from the CRAFTING YOUR MESSAGE chapter of the book.
Tomorrow, I am going to read a new chapter CAPTURING LEADS. Look out for tomorrow's article.
Snail Mail
Postal mail is what the author meant Snail mail so please don't get confused.
In an age where the internet, email, and social media play such huge roles in our personal and business communications, many have taken the view that postal mail, or "snail mail," is all but dead. Nothing could be further from the truth.
"Email doesn't replace postal mail, it complements it." - Allan Dib
Moving people emotionally towards the desired action is what marketing is all about, and snail-mail (postal mail) can do that.
How to Have an Unlimited Marketing Budget
The only time to set a marketing budget is when you're in the testing phase. In the testing phase, I advise that you often fail and fail cheap until you have a winner.
Once you have a winner that pulls in more than it costs you, crank up the marketing spend and hence the speed of your legal money printing press!
The Most Dangerous Number
The most dangerous number is 1.
Depending on just one source of leads? One major supplier? One major customer?
The 1 number scenario is a very tough situation to end up. Many businesses were hit hard when Google changed their search engine algorithm.
My Take (Narendra, not the author) 🚨
Fact: Google changes its search algorithm at an average of almost 9 times per day. Just depending on traffic from Google is not sound marketing. Diversify your marketing channels to other viable sources.
If you are curious and wanted to learn more about SEO and Keyword Research, then I recommend a course where I taught the subject in depth. The course is the highest-rated course on Udemy in that category. Here is the link to the class Underground SEO: Find Easy Keywords To Rank High In Google
"You've got to think winter in the summer. It's just too easy to get faked out when the sky is blue, and the clouds are fleecy. You've got to prepare for winter because it's coming, it always does." - Jim Rohn
Author advocates, you should have at least five different sources of new leads and customers. Further, he recommends that most of these five sources be in paid media.
Paid media is extremely reliable.
Second, paid marketing forces you to focus on return on investment (ROI). If a paid marketing method is not working, you cut it. You don't waste further time or money on it.
Whereas, when the marketing method is nominally free, such as with word of mouth, we tend to be less ruthless and often end up wasting huge amounts of time because we didn't have to pay anything upfront. However, there's an opportunity cost that, if careful analysis is done, often translates to a surprisingly large amount of real money.
Action Item:
What Media Will You Use to Reach Your Target Market?
Fill in square #3 of your 1-Page Marketing Plan canvas.
I finish reading Chapter 3, and I am going to read a new chapter tomorrow.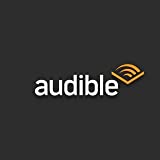 Do you know you can listen to this book on Amazon Audible for FREE?
If you are not into reading like me, then you can listen to this book for FREE on Amazon Audible
Don't Read. Just 🎧
Key Takeaways
In the age of the internet, don't ignore the postal mail marketing.
Paid marketing is extremely reliable, and it forces you to focus on return on investment (ROI).
Summary
The art and science of being able to consistently turn a dollar of paid advertising into a dollar or more in profits through direct response marketing will make your business resilient. They can help you turn the tap on to rapid business growth.
---
In this groundbreaking new book you'll discover:
How to get new customers, clients or patients and how to make more profit from existing ones.

Why "big business" style marketing could kill your business and strategies that actually work for small and medium-sized businesses.

How to close sales without being pushy, needy, or obnoxious while turning the tables and having prospects begging you to take their money.

A simple step-by-step process for creating your own personalized marketing plan that is literally one page. Simply follow along and fill in each of the nine squares that make up your own 1-Page Marketing Plan.

How to annihilate competitors and make yourself the only logical choice.

How to get amazing results on a small budget using the secrets of direct response marketing.

How to charge high prices for your products and services and have customers actually thank you for it.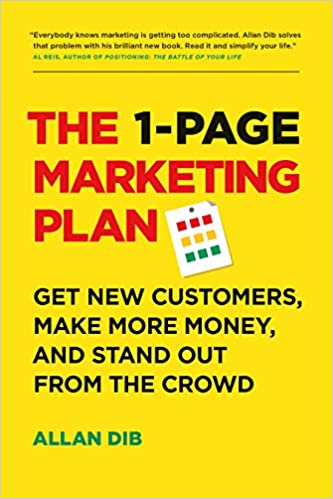 Author(s): Allan Dib
Short Blurb: "To build a successful business, you need to stop doing random acts of marketing and start following …
Read more
Buy from Amazon
---
Part 15 of 36 in the 📖 1-Page Marketing Plan book series.
Series Start | The 1-Page Marketing Plan - Day 14 | The 1-Page Marketing Plan - Day 16
---
Amazon Associates Disclaimer! 💬
As an Amazon Associate, I earn from qualifying purchases. I make a tiny commission if you buy using one of the links above at no additional cost to you. I use the money to buy another book 📖 to review or grab a beer 🍺 Super duper thanks 🙌