This post is part of the 📖 1-Page Marketing Plan series.
Today I am reading a new section Building Your Marketing Infrastructure from Nurturing Leads chapter of the book The 1-Page Marketing Plan written by Author, serial entrepreneur and rebellious marketer Allan Dib.
Info! 💬
By reading this book
The 1-Page Marketing Plan
, Whether you're just starting out or are an experienced entrepreneur, The 1-Page Marketing Plan is the easiest and fastest way to create a marketing plan that will propel your business growth. It's literally a single page, divided up into nine squares. With it, you'll be able to map out your own sophisticated marketing plan and go from zero to marketing hero.
Yesterday, I read some sections of Nurturing Leads chapter of the book.
Tomorrow, I am going to read a new section Become a Prolific Marketer from the Nurturing Leads Chapter. Look out for tomorrow's article.
Building Your Marketing Infrastructure
Up to now, we learned how to capture leads, but what do you do with these leads is what really separates the boys from the men.
You have a database of high-probability prospects. Your job is to market to them until they buy or die.
Instead of being a pest, I advocate becoming a welcome guest. Send your high-probability prospects a continuous stream of value until they're ready to buy.
How?
Send the following useful things that are related to your niche.
Tutorials
Articles
Case studies
A monthly newsletter
The above activity builds trust and goodwill and positions you as an expert and educator rather than just a salesperson going for the jugular.
The tools and technology to manage your database are cost-effective and scalable in the today's world.
Author provided a list of marketing infrastructure assets that he used in his own business over the decades.
Lead capture websites
Free recorded message info lines
Newsletters
Blogs
Free reports
Direct mail sequences
Email sequences
Social media
Online videos and DVDs
Podcasts and audio CDs
Print ads
Handwritten notes
Email auto-responders
SMS auto-responders
Shock and awe packages (discussed in the next section)
He says, all the ads that he runs are designed to plug cold leads into this system and convert them into raving fan customers.
Lumpy Mail and the Shock and Awe Package
Shock and awe package is essentially a physical box that you mail or deliver to prospects full of unique, benefit-laden assets related to your business and industry.
Here are some list of Shock and Awe packages:
Books
DVDs or CDs
Testimonials from past clients
Clippings from media mentions
Brochures and sales letters
Independent reports
A sample of your products or services
Unusual trinkets and gifts (like coffee mugs to iPads)
Handwritten notes
A shock and awe package should do three things:
Give your prospect amazing, unexpected value
Position you as an expert and trusted authority in your field
Move your prospect further down the buying cycle than they would otherwise have been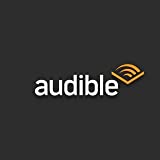 Do you know you can listen to this book on Amazon Audible for FREE?
If you are not into reading like me, then you can listen to this book for FREE on Amazon Audible
Don't Read. Just 🎧
Key Takeaways
Some of the prospects will convert into customers immediately, while others will do so weeks, months or even years later.
Summary
Don't make the mistake of being cheap and efficient when it comes to wooing prospects. Shock and awe packages are a huge competitive advantage.
Are you building your marketing infrastructure? Are you constantly building on and improving your marketing systems?
If you want to know more then buy the book.
---
In this groundbreaking new book you'll discover:
How to get new customers, clients or patients and how to make more profit from existing ones.

Why "big business" style marketing could kill your business and strategies that actually work for small and medium-sized businesses.

How to close sales without being pushy, needy, or obnoxious while turning the tables and having prospects begging you to take their money.

A simple step-by-step process for creating your own personalized marketing plan that is literally one page. Simply follow along and fill in each of the nine squares that make up your own 1-Page Marketing Plan.

How to annihilate competitors and make yourself the only logical choice.

How to get amazing results on a small budget using the secrets of direct response marketing.

How to charge high prices for your products and services and have customers actually thank you for it.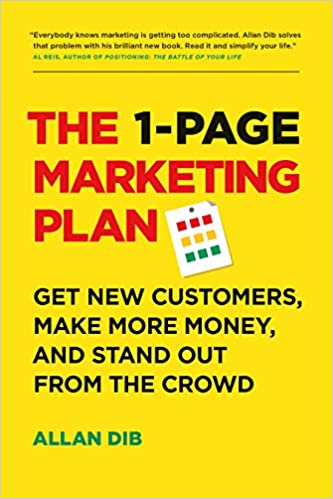 Author(s): Allan Dib
Short Blurb: "To build a successful business, you need to stop doing random acts of marketing and start following …
Read more
Buy from Amazon
---
Part 18 of 36 in the 📖 1-Page Marketing Plan book series.
Series Start | The 1-Page Marketing Plan - Day 17 | The 1-Page Marketing Plan - Day 19
---
Amazon Associates Disclaimer! 💬
As an Amazon Associate, I earn from qualifying purchases. I make a tiny commission if you buy using one of the links above at no additional cost to you. I use the money to buy another book 📖 to review or grab a beer 🍺 Super duper thanks 🙌