This post is part of the 📖 1-Page Marketing Plan series.
Today I am reading introduction chapter of the book The 1-Page Marketing Plan written by Author, serial entrepreneur and rebellious marketer Allan Dib.
Info! 💬
By reading this book
The 1-Page Marketing Plan
, Whether you're just starting out or are an experienced entrepreneur, The 1-Page Marketing Plan is the easiest and fastest way to create a marketing plan that will propel your business growth. It's literally a single page, divided up into nine squares. With it, you'll be able to map out your own sophisticated marketing plan and go from zero to marketing hero.
Introduction
Author Allan Dib says some of the most common complaints that he hear are:
It's too competitive
The margins are too low
Online discounters are taking customers away
Advertising no longer works
The owner of the business may have excellent technical skills, but it's his lack of business skills that cause his business to fail.
Professionals Have Plans
While no one can guarantee your success, having a plan dramatically increases your probability of success.
The Wrong Kind of Plan
The author says, you may not need hundreds of pages long business, but you need some plan particularly one key section of it called "the marketing plan".
My Friend Vilfredo Pareto and the 80⁄20 Rule
Pareto was an Italian economist who noticed that 80% of the land in Italy was owned by 20% of the population. Hence the Pareto Principle, commonly known as the 80 /20 rule, was born.
It holds true for anything you care to think of.
Some examples of 80/ 20 from the book:
80% of a company's profits come from 20% of its customers.
80% of road traffic accidents are caused by 20% of drivers.
80% of software usage is by 20% of users.
80% of a company's complaints come from 20% of its customers.
80% of wealth is owned by 20% of people.
The 64/ 4 Rule
If you think the 80/ 20 rule is exciting, the 64/ 4 rule1 will blow your mind. You see we can apply the 80⁄20 rule to the rule itself. So we take 80% of 80 and 20% of 20 and end up with the 64/ 4 rule.
The Best Kept Secret of the Rich
Struggling business owners will spend time to save money, whereas successful business owners will spend money to save time — Allan Dib
Spend money to save time is a best-kept secret of the rich.
Applying the 80/ 20 and 64/ 4 Rules—Your Marketing Plan
The 1-Page Marketing Plan is the 4% of effort that generates 64% (or more) of the result in your business.
What Is Marketing?
Marketing is not advertising or branding or some other vague concept.
The author gave a beautiful example here explaining the difference between advertising, promotion, publicity, public relations, sales and marketing. You have to pick the book just for the definition of marketing itself.
My commentary (Narendra):
I feel the book is a must-read book if you have an interest in marketing or otherwise. We all do marketing in our life without knowing.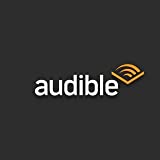 Do you know you can listen to this book on Amazon Audible for FREE?
If you are not into reading like me, then you can listen to this book for FREE on Amazon Audible
Don't Read. Just 🎧
Key Takeaways
Professionals never just wing it. They will have a plan, and they go by it.

If you look at wealth distribution statistics from the last century, you'll notice that the top 4% own about 64% of the wealth, and the top 20% own approximately 80% of the wealth.

By far the most significant leverage point in any business is marketing.

Laziness becomes the mother of invention.
Summary
The 1-Page Marketing Plan is the 4% of effort that generates 64% (or more) of the result in your business. It's the 64/ 4 rule applied to business planning. Using this process, we can boil down hundreds of pages and thousands of hours of traditional business planning into a single page that can take as little as 30 minutes to think about and fill in.
---
In this groundbreaking new book you'll discover:
How to get new customers, clients or patients and how to make more profit from existing ones.

Why "big business" style marketing could kill your business and strategies that actually work for small and medium-sized businesses.

How to close sales without being pushy, needy, or obnoxious while turning the tables and having prospects begging you to take their money.

A simple step-by-step process for creating your own personalized marketing plan that is literally one page. Simply follow along and fill in each of the nine squares that make up your own 1-Page Marketing Plan.

How to annihilate competitors and make yourself the only logical choice.

How to get amazing results on a small budget using the secrets of direct response marketing.

How to charge high prices for your products and services and have customers actually thank you for it.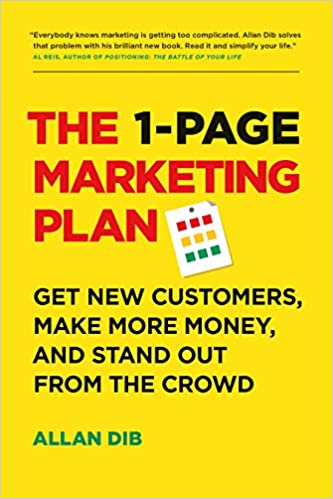 Author(s): Allan Dib
Short Blurb: "To build a successful business, you need to stop doing random acts of marketing and start following …
Read more
Buy from Amazon
---
Part 2 of 36 in the 📖 1-Page Marketing Plan book series.
The 1-Page Marketing Plan - Day 1 | The 1-Page Marketing Plan - Day 3
---
Amazon Associates Disclaimer! 💬
As an Amazon Associate, I earn from qualifying purchases. I make a tiny commission if you buy using one of the links above at no additional cost to you. I use the money to buy another book 📖 to review or grab a beer 🍺 Super duper thanks 🙌