This post is part of the 📖 1-Page Marketing Plan series.
Today I am reading the same section Become a Prolific Marketer from Nurturing Leads chapter of the book The 1-Page Marketing Plan written by Author, serial entrepreneur and rebellious marketer Allan Dib.
Info! 💬
By reading this book
The 1-Page Marketing Plan
, Whether you're just starting out or are an experienced entrepreneur, The 1-Page Marketing Plan is the easiest and fastest way to create a marketing plan that will propel your business growth. It's literally a single page, divided up into nine squares. With it, you'll be able to map out your own sophisticated marketing plan and go from zero to marketing hero.
Yesterday, I read some sections of Become a Prolific Marketer chapter of the book.
Tomorrow, I am going to read a new chapter Sales Conversion. Look out for tomorrow's article.
The Importance of Having a Marketing Calendar
A marketing calendar sets out what marketing activities have to happen on a daily, weekly, monthly, quarterly and annual basis.
For example:
Daily: check social media mentions and respond appropriately.
Weekly: write a blog post and send the link in an email broadcast to email list subscribers.
Monthly: mail customers and prospects a printed newsletter or postcard.
Quarterly: send past customers who haven't purchased recently a reactivation letter.
Annually: send all customers a gift basket thanking them for their business.
Once you figure out what needs to be done and when the only other question you need to answer is who will be responsible for delivering on each of these scheduled marketing activities.
On top of regular, scheduled marketing activities, you need to consider event-triggered marketing activities.
For example, consider these actions:
You meet a potential prospect at a business event: transcribe their details from their business card into your CRM system and put them on your monthly newsletter/ postcard list.
You get an inbound sales inquiry: send them a handwritten note and your shock and awe package.
You get a new email list subscriber from your blog: add them to your CRM system, which automatically emails them an educational five-part video series over the next thirty days.
You received a customer complaint: after the issue is resolved, send them a handwritten apology note and a $ 100 discount coupon on their next purchase.
If someone else can do it 80% as good as you can, then you should delegate — Allan Dib
Author Allan Dib provided an excellent example of task delegation in his business.
The production of this book is a perfect example of this, he said.
It was written by Allan Dib in Australia, edited by two copy editors—one based in the United States, the other based in Canada. A graphic designer in India did the cover design, and his research assistant was based in the Philippines.
I finished reading chapter 5 of this book.
Chapter 5 Action Item:
What Is Your Lead Nurturing System?
Fill in square #5 of your 1-Page Marketing Plan canvas.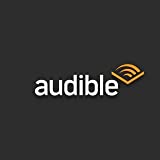 Do you know you can listen to this book on Amazon Audible for FREE?
If you are not into reading like me, then you can listen to this book for FREE on Amazon Audible
Don't Read. Just 🎧
Key Takeaways
Again, don't stay in a rut by managing all the above activities on your own instead of making those event-triggered activities someone else's responsibility.
Summary
If someone else can do it 80% as good as you can, then you should delegate your marketing events to them without hesitation.
The Internet has broken down geographical barriers and enabled anyone to have a global workforce. Never before has so much talent been so readily available and been so cost-effective.
---
In this groundbreaking new book you'll discover:
How to get new customers, clients or patients and how to make more profit from existing ones.

Why "big business" style marketing could kill your business and strategies that actually work for small and medium-sized businesses.

How to close sales without being pushy, needy, or obnoxious while turning the tables and having prospects begging you to take their money.

A simple step-by-step process for creating your own personalized marketing plan that is literally one page. Simply follow along and fill in each of the nine squares that make up your own 1-Page Marketing Plan.

How to annihilate competitors and make yourself the only logical choice.

How to get amazing results on a small budget using the secrets of direct response marketing.

How to charge high prices for your products and services and have customers actually thank you for it.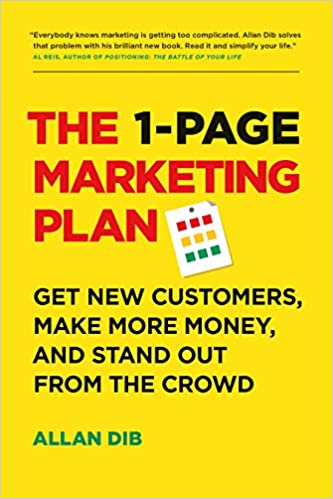 Author(s): Allan Dib
Short Blurb: "To build a successful business, you need to stop doing random acts of marketing and start following …
Read more
Buy from Amazon
---
Part 20 of 36 in the 📖 1-Page Marketing Plan book series.
Series Start | The 1-Page Marketing Plan - Day 19 | The 1-Page Marketing Plan - Day 21
---
Amazon Associates Disclaimer! 💬
As an Amazon Associate, I earn from qualifying purchases. I make a tiny commission if you buy using one of the links above at no additional cost to you. I use the money to buy another book 📖 to review or grab a beer 🍺 Super duper thanks 🙌